The First Family of Mustard
For over 150 years, the Plochman's family has been bringing the most delicious, quality mustards to your table. Made exclusively in the United States—discover how our history continues to flavor our future.
2022
2022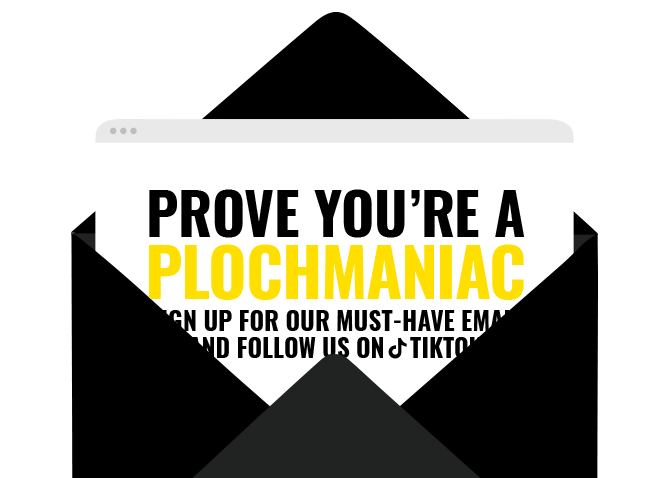 Feeding the Screens
Plochman's launches into TikTok and eNewsletters to bring digital deliciousness straight into the pockets of our mustard fanatics.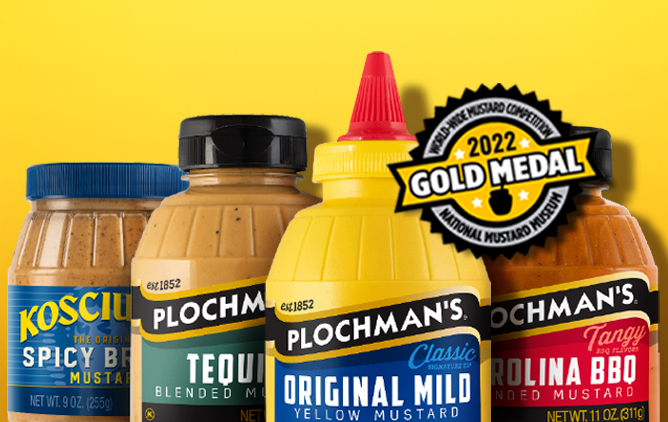 Taste the Gold
Original Mild, Carolina BBQ, Tequila Blend, and Kosciusko® Spicy Brown each earn top place at the 2021 World-Wide Mustard Competition. (But was it really ever a competition?)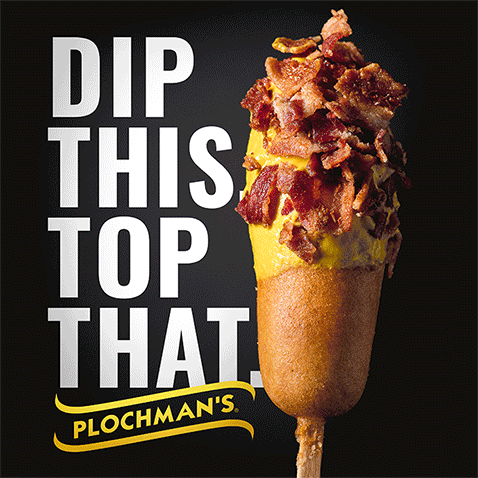 Corndog Topping Innovation
Dip, top, eat, repeat. Plochman's R&D efforts bring corndog flavor combos to a whole new level.
2021
2021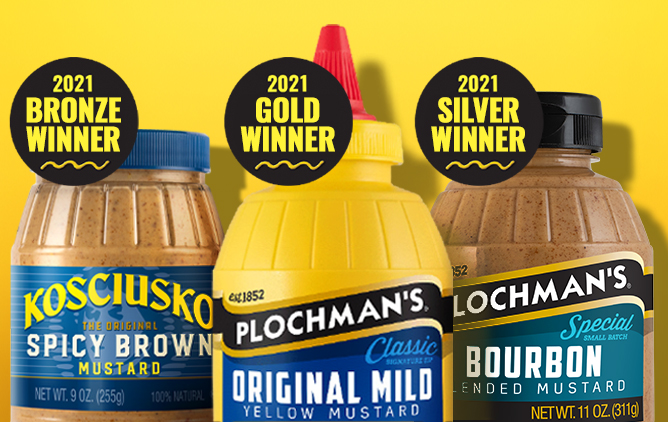 Three More Wins
Original Mild, Bourbon Blend and Kosciusko® Spicy Brown each take home medals at the 2021 World-Wide Mustard Competition.
2020
2020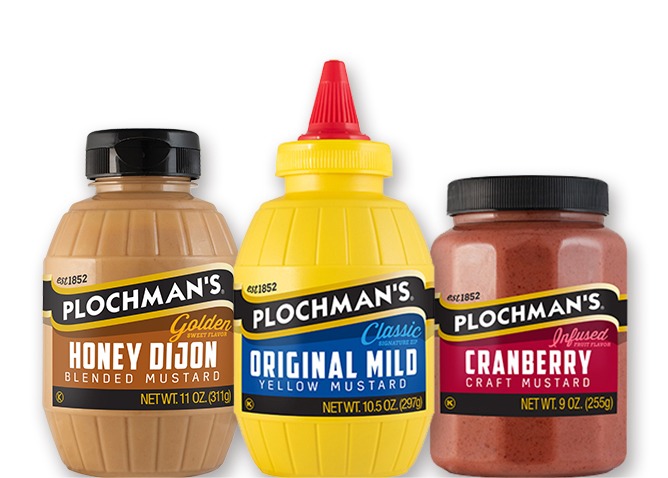 The future looks bright
Same delicious mustard, new beautiful label! Redesigned labels showcase the premium quality of the Plochman's product and introduce new flavors you'll love!
2019
2019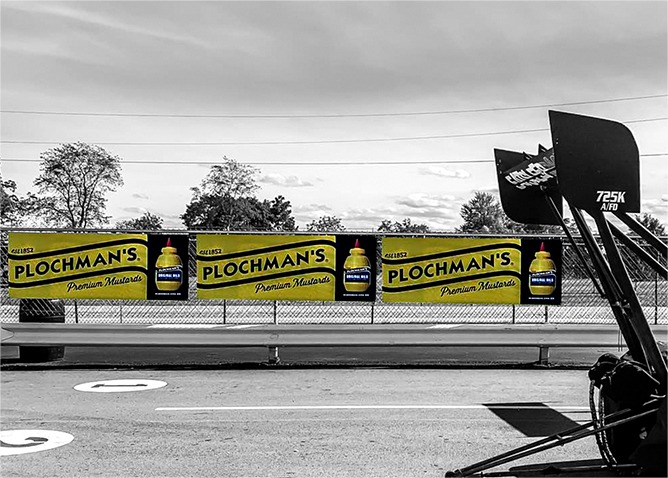 NHRA Partnership
Plochman's was honored to be a sponsor of the ProMod class at the NHRA national event in Norwalk, OH.
Small Town Big Deal
Small Town Big Deal highlights the rich history of the Plochman's brand and the step-by-step process of quality mustard making.
2018
2018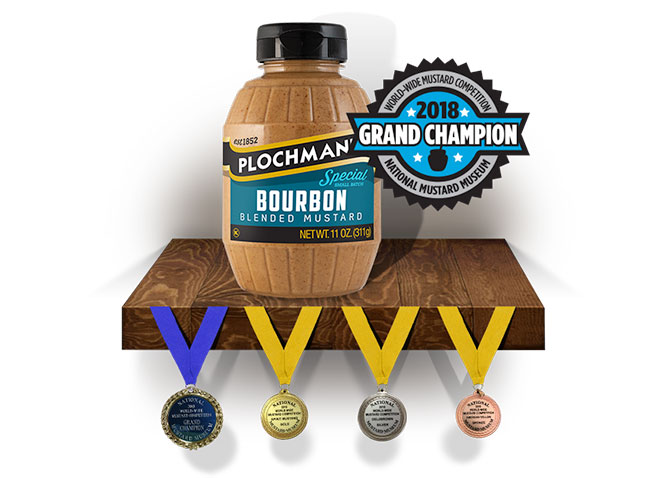 Award-winning mustard
Four prestigious medals, one proud mustard-maker. Our Bourbon Mustard was just declared "Grand Champion" at the 2018 World-Wide Mustard Competition. Proving, again, that its rich flavor pairs well with countless food favorites, including adult beverages, baked beans and grilled chicken.
2017
2017
Chicago's Best Debut
Plochman's classic mild yellow mustard takes center stage as Chicago's Best TV visits our factory on a mission to create an authentic Chicago-style hot dog.
2010
2010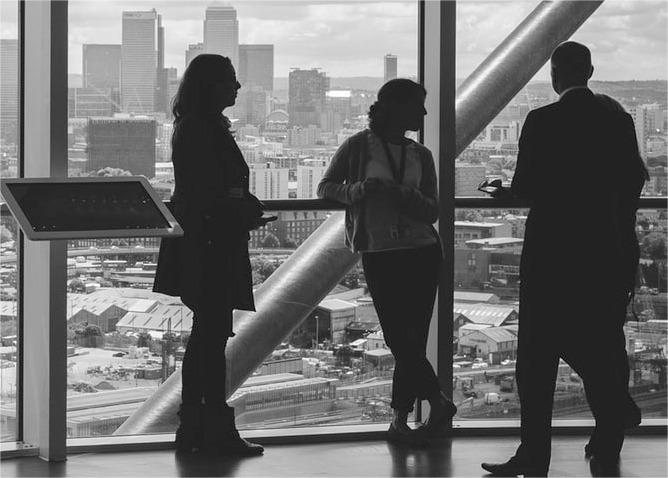 Hello to Haco
HACO, Inc., a food manufacturer headquartered in Gümligen, Switzerland, takes notice of Plochman's high quality mustards and acquires the brand. With this new partnership in place, Plochman's takes on a new global role.
1995
1995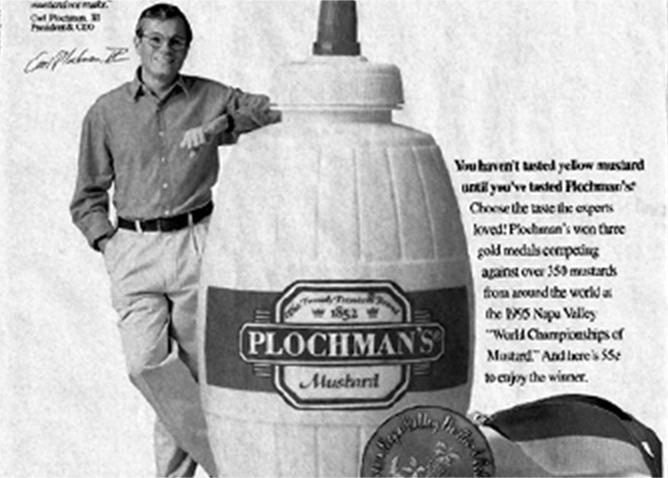 The clear favorite
Plochman's introduces a clear squeeze barrel featuring innovative specialty mustards. The same year, Plochman's begins winning medals at the Napa Valley Mustard Celebration.
1985
1985-1989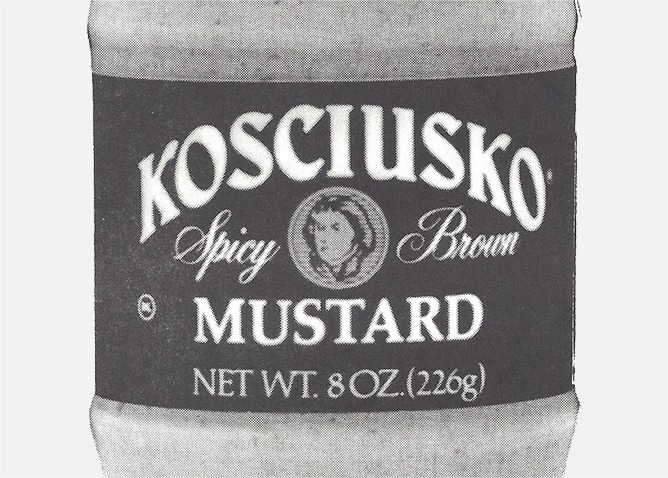 A growing family
Kosciusko® brand mustard joins the growing Plochman's product family, and just a few years later Carl Plochman III (Terry) becomes CEO and President of the company.
1971
1971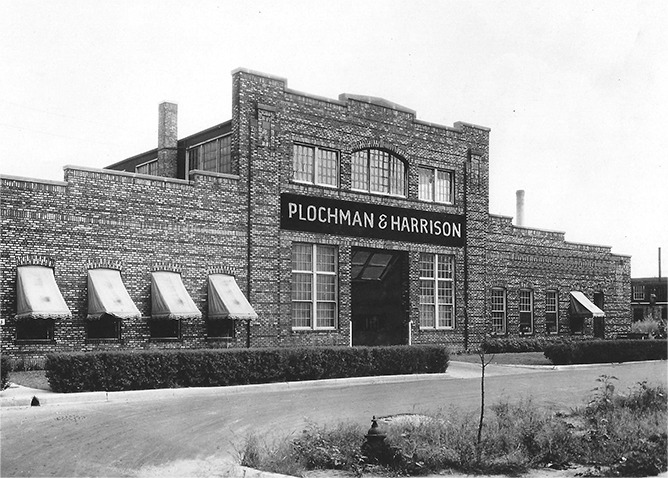 The icon
Shortly after a new generation of Plochmans (Carl Jr. and Fred) take the reins, Plochman's is awarded a trademark on its distinctive Squeeze Barrel™ bottle—and becomes a household name.
1957
1957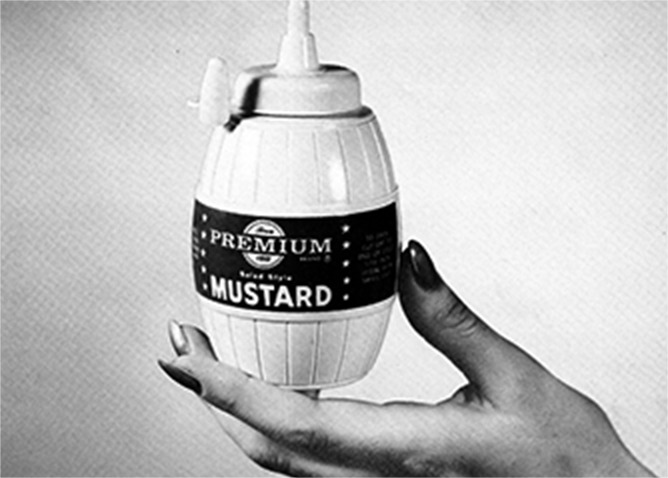 The total package
Pioneering a new use for plastics, Plochman's introduces yellow mustard in a distinctive yellow squeeze barrel, the first successful squeeze condiment in the United States.
1930s
1930s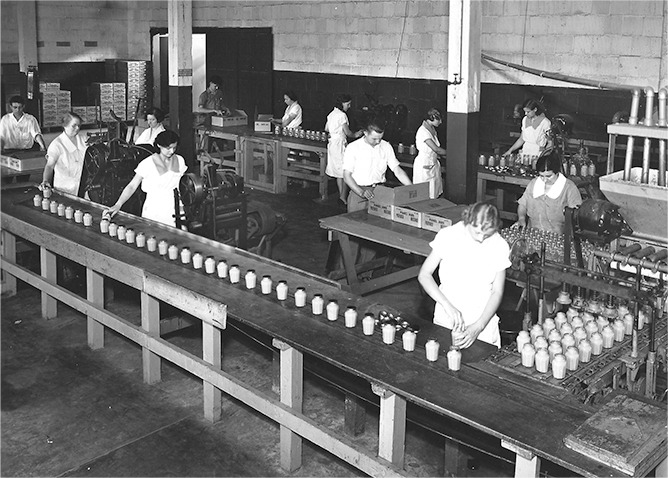 New territory
Plochman's Mustard expands again and moves to Cicero, a town about 10 miles west of Chicago. In 1933, a new-fangled type of grocery store—the supermarket—begins selling Plochman's mustard.
1902
1902-1929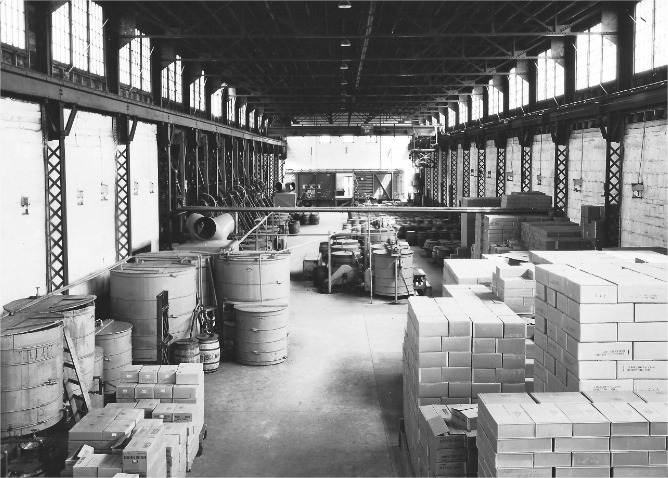 A mustard revolution
Moritz moves the company to a location near Lake Michigan and later to one on Chicago's Clinton Street to accommodate the growing demand for mustard—especially that of the yellow variety. Shortly after, Moritz passes the torch to his son Carl.
1890
1890-1901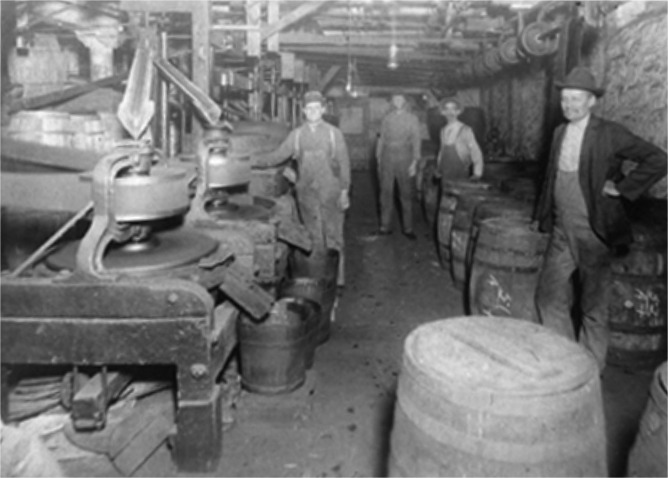 Man on a mission
A busy Moritz Plochman produces horseradish, chow-chow and a variety of sauces at his mustard mills along with root beer, sarsaparilla and other beverages at his other company, Sterling Springs Bottling Works.
1881
1881-1883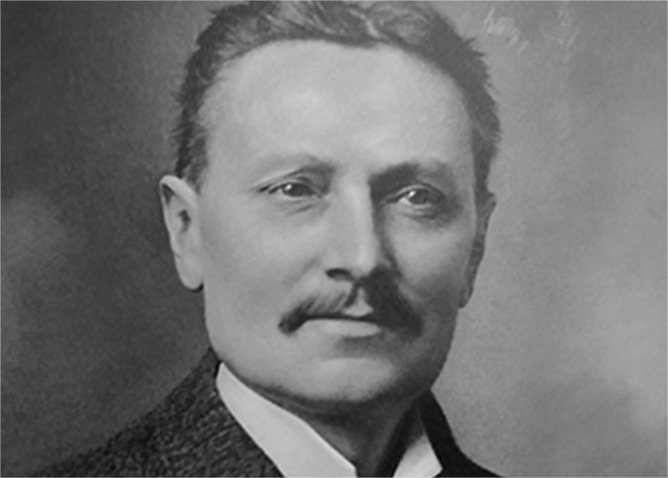 Meet Moritz
Trained chemist Moritz Plochman emigrates to the United States from the Kingdom of Württemberg, an area and former state in southwestern Germany. Two years later Moritz buys Premium Mustard Mills and pledges to make "first-class" mustards only.
1871
1871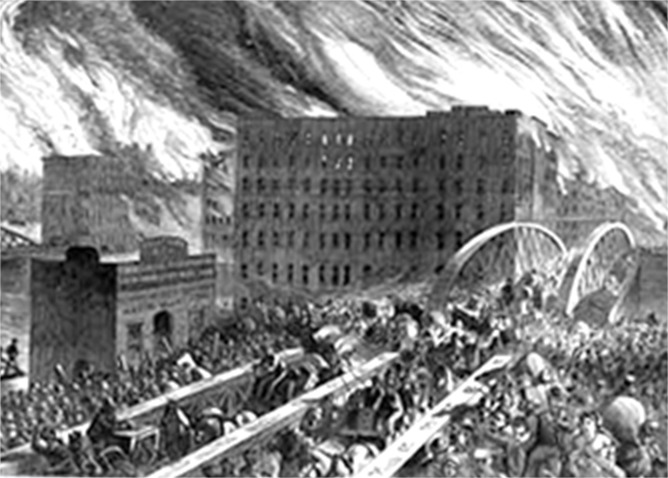 A fireproof recipe
The factory survives the Great Chicago Fire, a three-day disaster that destroyed roughly 3.3 miles of the city and left more than 100,000 Chicago residents homeless.
1852
1852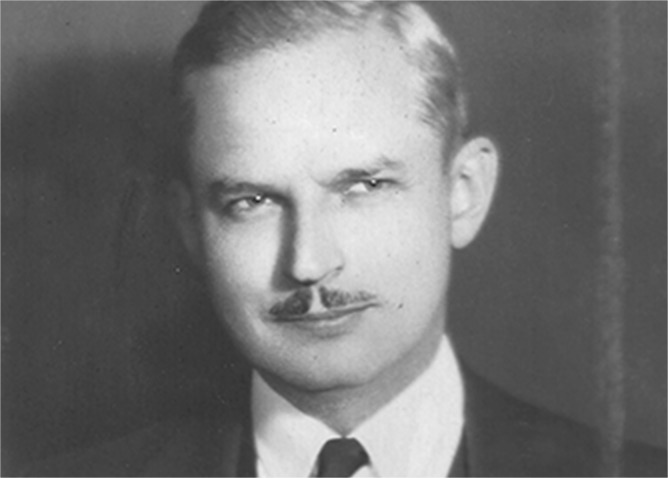 Born from the best
Premium Mustard Mills—what would later become Plochman, Inc.—is founded in Chicago, establishing us as a true original.