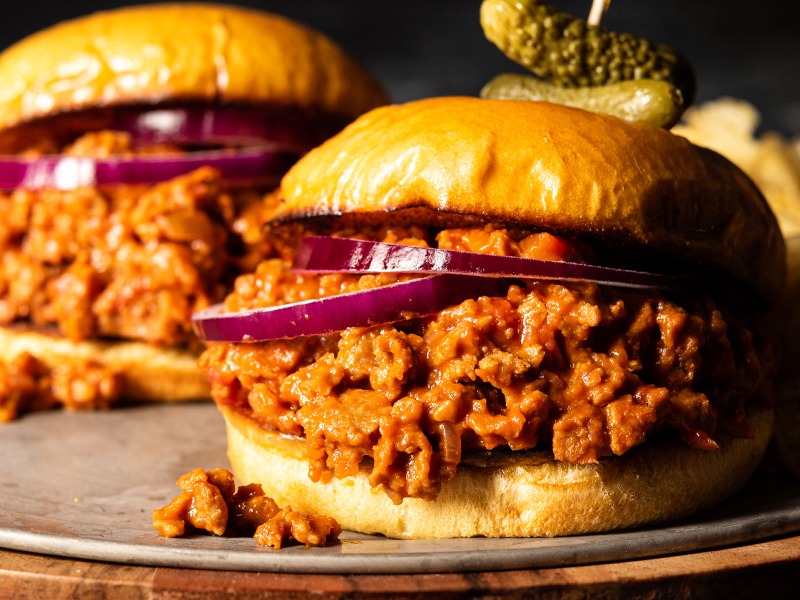 Carolina Barbecue Sloppy Joes
Stir in this simple recipe for a sweet BBQ that has a lingering heat that guarantees your family is gonna love how this taste.
Active Time: 30 minutes
Servings: 4-6
Ingredients
2 lbs. Plant-based ground beef alternative
1 C. Onion - finely chopped
5 cloves Garlic - minced
4 each Scallions - chopped into ¼ inch slices
1 C. Plochman's Carolina BBQ Mustard
½ tsp Hot chili powder
¼ C. Dark brown sugar - packed
6 oz Tomato paste – one small can
14.5 oz. Chopped tomatoes - one can, drained
¼ C. Olive oil for frying
Salt and Pepper to taste
Meat Version* Use your favorite meat for a trendy sandwich solution.
Directions
Begin by heating your oil and frying the finely chopped onions until a little brown, and then add the brown sugar and stir until this dissolves into the onion, next add the garlic, and continue to fry for a couple of minutes.
Add the drained chopped tomatoes and stir into each other then add the plant-based beef, season with hot chili powder, salt and pepper. Stir and brown until this resembles browned ground beef.
Next stir in the tomato paste and Carolina BBQ Mustard, stir until consistency is achieved. Lastly stir in the scallions and stir to distribute evenly.
Take off the heat, toast and 'butter' your bun if you wish, and spoon in lots of the Sloppy Joe, this should serve about 12 portions of 6 ounces each.
Print