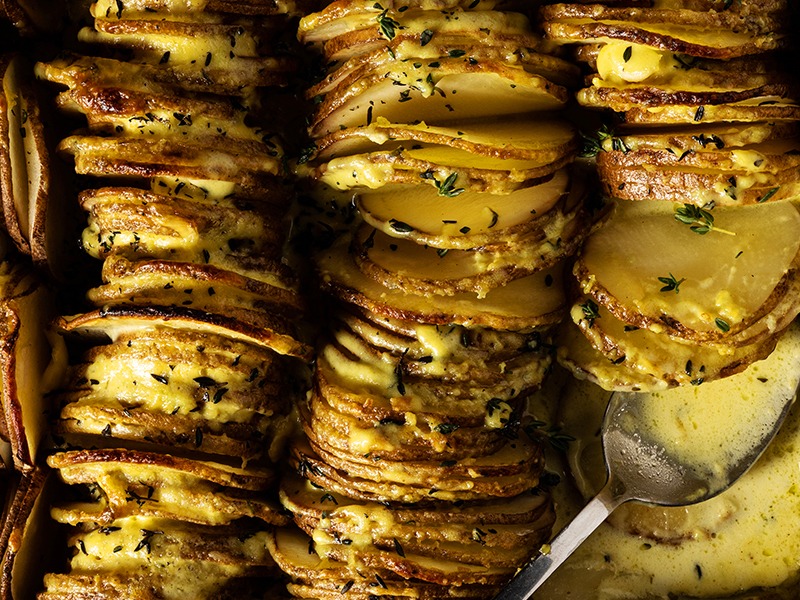 Creamy Honey Potato Casserole
Super simple yet incredibly satisfying sliced potato bake. Hints of thyme, garlic and cream compliment the sweet savory honey mustard for a side or main meal.
Active Time: 40 minutes
Total Time: 1 hour
Servings: 4-6
Ingredients
3 pounds Golden potatoes - peeled
1 1/4 cup Heavy cream
4 oz Butter – melted (one stick)
6 cloves Garlic - minced
2 Tbsp Thyme -fresh picked and chopped
½ C Plochman's Harvest Honey Mustard
1 Tbsp Cornstarch
1 oz Water
Salt and White Pepper to taste
Parchment paper – to line baking dish
9x13 Baking dish
Directions
Preheat the oven to 400 degrees F. remove the thyme leaves and roughly chop, in a 1 qt. saucepan, melt the butter then add in the garlic let this simmer for a few minutes to cook the garlic.
Deposit the heavy cream into the pan and bring to a simmer, next add the Harvest Honey Mustard and season with salt and pepper to taste.
In a separate cup mix the corn starch and just enough water to wet the corn starch, stir until a consistent slurry is created. Then pour a little of the slurry at a time into the simmering cream mix and stir until sauce thickens to desired consistency, you may not use all the corn starch slurry.
Sauce should be pourable but not gloppy, then turn off the heat and whisk again.
Peel and slice each potato, slice the potatoes into very thin rounds, 1/8-inch thick, Hold your potatoes in a bowl of water until you arrange to bake.
Arrange each potato in a 9x13 parchment lined baking dish, then spread a thin layer of cream on the parchment paper. Once all potatoes are arranged, cover with remaining cream mixture.
Bake for 30 - 40 minutes until fork tender. If desired garnish dish with any extra Thyme Serve warm.
Print