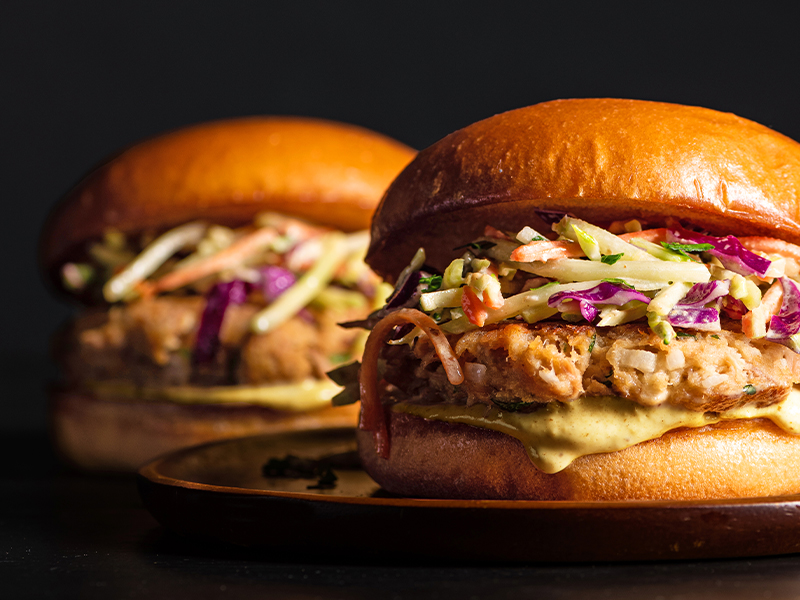 Crispy Tuna Patty Sandwich
A crispy crunch and tasty tang come together to form sandwich heaven. Pair with a cold IPA for the ultimate experience.
Active Time: 5 Minutes
Total Time: 15 Minutes
Servings: 4
Ingredients
4 (3-oz.) canned tuna

1 egg

1/4 cup finely chopped white onion

2 tablespoons finely chopped fresh parsley

1 tablespoon mayonnaise

1 tablespoon Plochman's Craft Beer Mustard

1 teaspoon Sriracha sauce

zest and juice of 1/2 lemon

1/4 teaspoon salt

1/2 cup dry bread crumbs

3 tablespoons avocado oil (or your preferred oil)

Optional toppings: arugula, thin sliced pickles, carrot & cabbage slaw
Directions
Add the tuna to a large bowl. Stir in the onions and fresh parsley.

In a smaller bowl, whisk together the egg, mayo, mustard, Sriracha, lemon zest, and lemon juice.

Add the liquid mixture to the tuna mixture and stir together. Add the breadcrumbs, and use your hands to combine and mix evenly.

Divide the mixture into 4 equal portions, about 1/2 cup each. Shape into 4 patties, each about 1 inch thick.

Heat the avocado oil (or your desired cooking oil) over medium heat. Using a fish turner, gently lay the tuna patties in the pan, and cook until browned, about 3-4 minutes on each side. Season with additional salt and pepper and toppings, as desired. Serve warm.
Tasty Swap:
Use lime and cilantro, instead of the lemon and parsley, for a change of pace.
Print