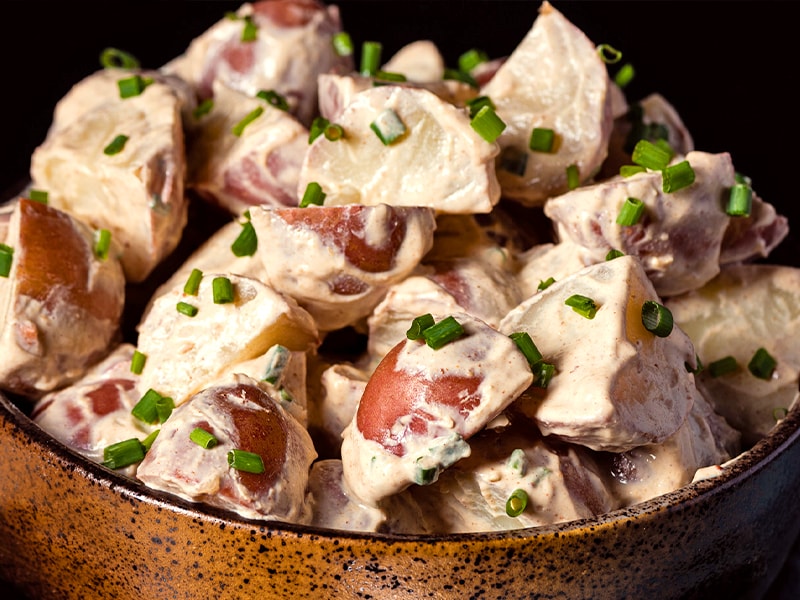 Spicy Horseradish Potato Salad
Potatoes get a glow-up in this spicy horseradish potato salad. Spicy, zesty, and all-around delish, bring this to a party and you'll get an invite back every time.
Active Time: 15 Minutes
Total Time: 45 Minutes
Servings: 4–6
Ingredients
3 cups red potatoes with skins, diced
1/4 cup Plochman's Spicy Horseradish Mustard
3/4 cup sour cream (or low-fat substitute)
2 tablespoons fresh chives or green onions
Directions
Generously season 1 quart water with salt and bring to a boil. Add potatoes and cover. Cook until tender, about 15 minutes.
Meanwhile, mix mustard, sour cream and 1 tablespoon chives or green onions.
Drain potatoes and run under cold water to cool. Toss with creamy mustard mixture until evenly coated. Chill for at least 20 minutes.
Remove from refrigerator and stir. Garnish with remaining chives or green onions.
Kick It Up a Notch
Give your potato salad a savory crunch by tossing with crumbled bacon pieces and chopped red onions right before serving.
Print