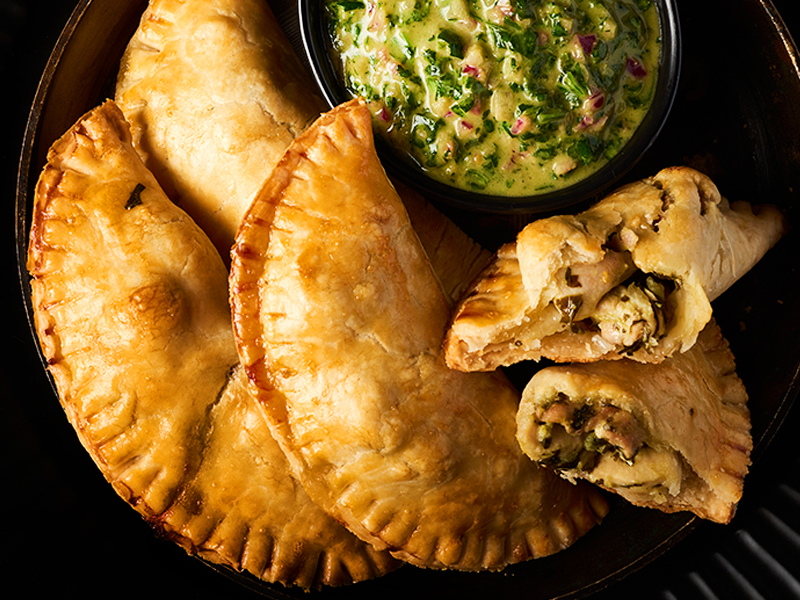 Mustard Chimichurri Chicken Empanadas
Prepare to inhale the flakey crust and warm, savory fillings of this classic street food, complete with a bright, herby chimichurri sauce.
Active Time: 1.5 Hours
Total Time: 11-12 Hours (includes overnight)
Servings: 6
Ingredients
Empanada Disks:
4 cups all-purpose flour, plus additional for dusting

1 ½ teaspoons salt 

½ cup vegetable shortening 

1 egg
Chicken Mixture:
2 pounds chicken thighs, cubed into small pieces

1 ½ cups

Mustard-Herb Chimichurri

1 tablespoon oil 

Pinch salt
Directions
Make (12-15) Empanada Discs: Stir flour and salt together in a bowl.

Blend the shortening into the flour mixture with a metal spoon or hands until well blended.

Combine the egg with ⅔ cup room temperature water. Stir ½ cup of egg mixture into the flour until the dough starts to come together smoothly. Keep kneading the dough, adding more of the egg mixture as needed (you may need a little more water). The dough should be smooth.

Cover the dough with plastic wrap and refrigerate for at least 1 hour but preferably overnight.

Make chicken mixture: Combine chicken with 1 cup

Mustard-Herb Chimichurri

. Mix well and refrigerate overnight.

Heat saute pan with oil and saute the chicken with the salt until done. Add remaining ½ cup Chimichurri and set aside to cool to room temperature.

Preheat oven to 400° degrees F.

Place dough on a floured surface and roll to desired thickness before cutting. Use a 5-inch round cutter for the discs.

Place 1 tablespoon of chicken mixture in the center of an Empanada Disc and close by hand or with a fork. Repeat with remaining dough and filling.

Bake until browned, about 10 minutes.
Print