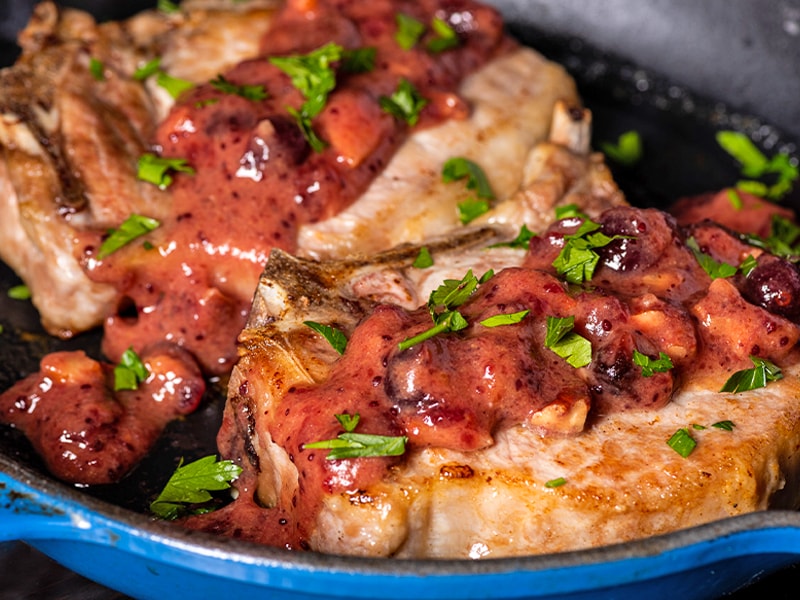 Cranberry Mustard Pork Chops
Grab your Dijon mustard. Grab your cranberry blend. Pour and stir with chopped pecans, then top your chops to create a perfect tangy-savory dinner.
Active Time: 10 Minutes
Total Time: 12.5 Hours
Servings: 4
Ingredients
4 (6-ounce) pork tenderloin
1/4 cup Cranberry Craft Mustard Sauce, recipe follows
Nonstick cooking spray
Salt and freshly ground black pepper
Fresh parsley
1/2 cup chopped pecans
4 teaspoons Plochman's Dijon Mustard
8 tablespoons Plochman's Cranberry Craft Mustard
Directions
Cranberry Craft Mustard Sauce
Stir pecans and mustards together and transfer to a small bowl. Let cool completely at room temperature, then cover and refrigerate until ready to use. The sauce will thicken as it cools.
Pork Loins
Arrange the pork chops in a single layer in a shallow dish. In a small bowl, add the mustard and cranberry sauce and stir to combine. Brush the mustard mixture evenly over both sides of the chops. Cover and refrigerate for 1 to 12 hours, turning occasionally.
Coat a large frying pan over medium heat with nonstick cooking spray. When the pan is hot add the chops. Partially cover and cook for 10 minutes. Uncover, turn the chops over and cook uncovered on the second side until the meat is cooked through but still juicy, 5 to 10 minutes longer. Season with salt and pepper, to taste, and transfer to a serving platter. Garnish with fresh thyme.
Print