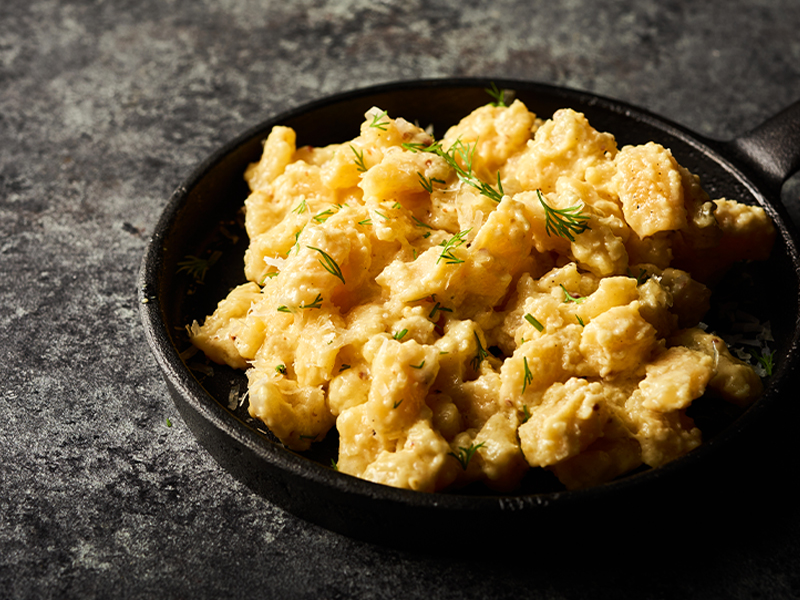 Mustard Gruyere Herbed Spaetzle
Find a fork (or realistically a shovel) to enjoy the soft texture and lightly tart flavor of this dish.
Active Time: 15 Minutes
Total Time: 45 Minutes
Servings: 4
Ingredients
Kosher salt

1 ½ cups all-purpose flour

Freshly ground pepper

Pinch of freshly grated nutmeg

½ cup sour cream

½ cup seltzer

2 large eggs

2 tablespoons + 2 teaspoons chopped fresh dill and/or parsley

1 tablespoon

Plochman's® Mild Yellow Mustard

½ tablespoon

Plochman's® Stone Ground Craft Mustard

1 tablespoon + 1 teaspoon extra-virgin olive oil

2 tablespoons unsalted butter

Garnish fresh dill and/or parsley + shredded Gruyere
Directions
Bring a pot of salted water to a bare simmer. Combine the flour, 2 teaspoons salt, a pinch of pepper and the nutmeg in a large bowl. Whisk the sour cream, seltzer, eggs, herbs and mustards in another bowl, then stir into the flour mixture.

Fill a large bowl with ice water. Working over the simmering water, place about 1 cup of dough in a colander and push the dough through with a rubber spatula. Cook the spaetzle for 1 minute after they float to the surface, then remove with a slotted spoon and transfer to the ice water. Repeat with the remaining dough, letting the water return to a bare simmer between batches. Drain the spaetzle, spread out on a baking sheet and pat dry with paper towels. Toss with 2 teaspoons of olive oil.

Heat 2 tablespoons butter and 1 tablespoon olive oil in a large skillet over medium-high heat. Increase the heat to high and add half of the spaetzle in an even layer. Cook, undisturbed, until golden brown on the bottom, about 5 minutes. Shake the pan and loosen the spaetzle with a spatula; continue cooking until heated through, about 1 more minute. Season with salt and pepper. Garnish with herbs and cheese. Repeat with the remaining butter, oil and spaetzle.
Print