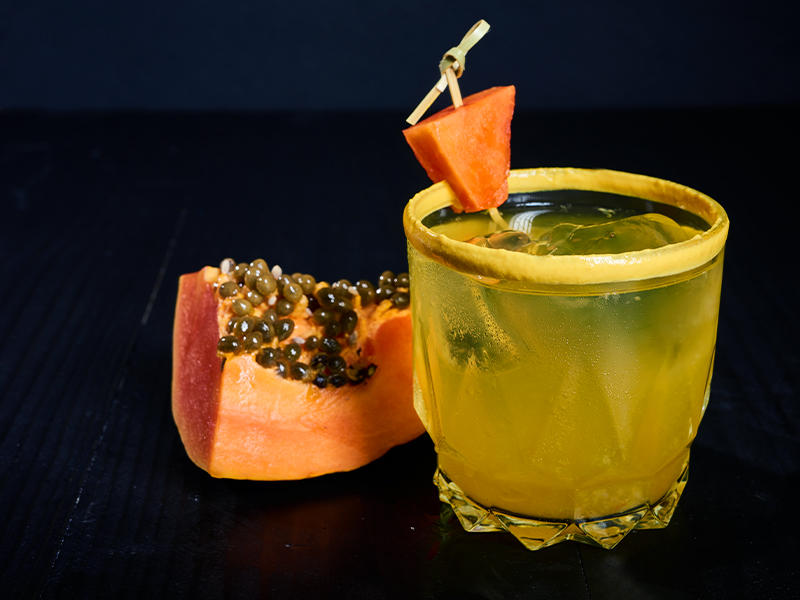 Papaya Rum Mustard Punch
Grab your sunscreen, find a silly straw hat and dive into vacay mode before having your first sip of this perfectly tangy tropical cocktail. Cheers!
Active Time: 10 Minutes
Total Time: 40 Minutes
Servings: 8
Ingredients
2 tablespoons salt

2 tablespoons

Plochman's® Mild Yellow Mustard

4 cups chilled papaya juice

1 cup chilled pulp-free orange juice

1 cup white or dark rum

4 tablespoons lime juice (about 2 limes)

1 cup club soda, chilled

Garnishes: lime wedges and/or orange slices
Directions
In two separate shallow dishes, add mustard to one dish and 2 tablespoons salt to the other dish. Dip rims of glasses in a dish of mustard and then immediately dip into salt. Set aside.

Fill a large pitcher with ice. Stir in papaya and orange juices, rum, lime juice, and club soda.

Pour into mustard and salt-rimmed glasses, garnishing with lime and/or orange slices if you choose.
Kick It Up a Notch
Add 2 tablespoons of simple syrup for an elevated flavor.
Print