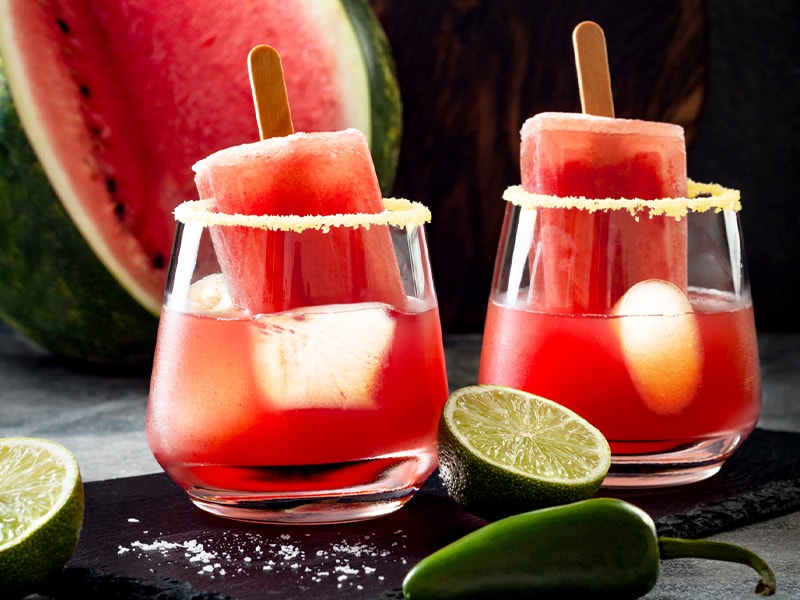 Spiked Watermelon Mustard Refresher
Why stop at mustard-topped watermelon slices? Try this fresh-pressed watermelon vodka cocktail with a rim adorned with tangy mustard and sweet sugar.
Active Time: 35 minutes
Total Time: 35 minutes
Servings: 4
Ingredients
.75 ounces Plochman's Original Mustard
2 ounces Sugar
2 ounces Vodka (we used Chopin)
3 ounces Freshly Pressed Watermelon Juice (can use extra juice to make homemade pressed watermelon popsicles)
1/2 ounce Fresh Lime Juice
1 ounces Ice
Directions
Dip rims of glasses in a dish of mustard and then immediately dip into sugar. Set aside. Quickly mix ice, watermelon juice (our preferred juice, is freshly pressed watermelon), vodka and fresh lime juice in a cocktail shaker. Only shake two or three times or else it will become watery. Mix and chill the drink.
Pour into sugar rimmed glasses. Garnish with homemade watermelon popsicles and a slice of lime.
Kick It Up a Notch
Add a little jalapeno to spice things up a bit.
Print