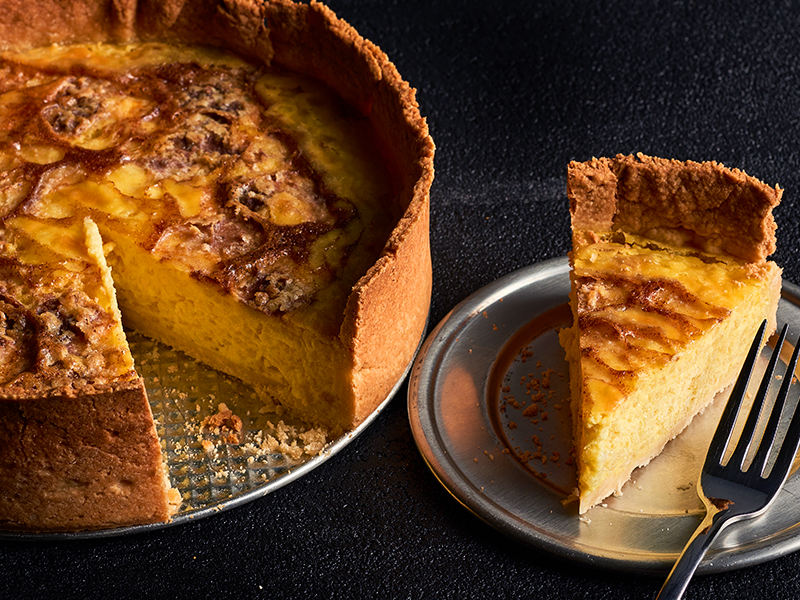 Mustard Torta Salata Di Riso
Its pristine appearance makes you almost hate to slice in. But its soft, savory taste just might make you finish it in one sitting.
Active Time: 35 Minutes
Total Time: 1 Hour 25 Minutes
Servings: 8-12
Ingredients
1 scant cup white rice flour

1 cup all-purpose flour

1/3 cup brown sugar

1/3 cup plus 2 tablespoons granulated sugar

7 ¾ ounces butter, divided

2 eggs

11 fluid ounces cream

16 fluid ounces milk

¾ cup arborio rice

4 egg yolks

¼ cup

Plochman's® Mild Yellow Mustard

Zest of 1 lemon

2 tablespoons almonds, chopped

¼ teaspoon cinnamon

¼ teaspoon nutmeg
Directions
Place the flour and salt in a food processor and pulse to mix. Add the brown sugar, 1 egg, 3 ½ oz. of the butter & mix until combined. 

Take the dough out & knead for a short time until smooth. Wrap in plastic wrap & place in the fridge for at least 30 mins.

Put the rice, cream & milk with a pinch of salt into a saucepan & bring to a boil. Simmer for around 30 mins or until rice is cooked & has absorbed the milk.

In another bowl mix together the 4 egg yolks, mustard, 2 ½ oz. of granulated sugar, 1 ¾ oz. of butter, lemon zest & almonds. Stir this mixture into the creamed rice making sure it is well combined. 

Roll out the pastry to about ¼" thick & place into a well-buttered 9" springform pan. Press the pastry into the pan & patch any pieces that have torn. The pastry must reach the top edge of the pan.

Pour the rice mixture into the prepared pastry.

Combine the remaining egg, spices, butter (diced into small chunks) & granulated sugar in a small bowl & mix well. Drizzle this over the top of the cake. Bake at 350°F for around an hour or until cooked through & golden. Serve with cream if desired.
Print