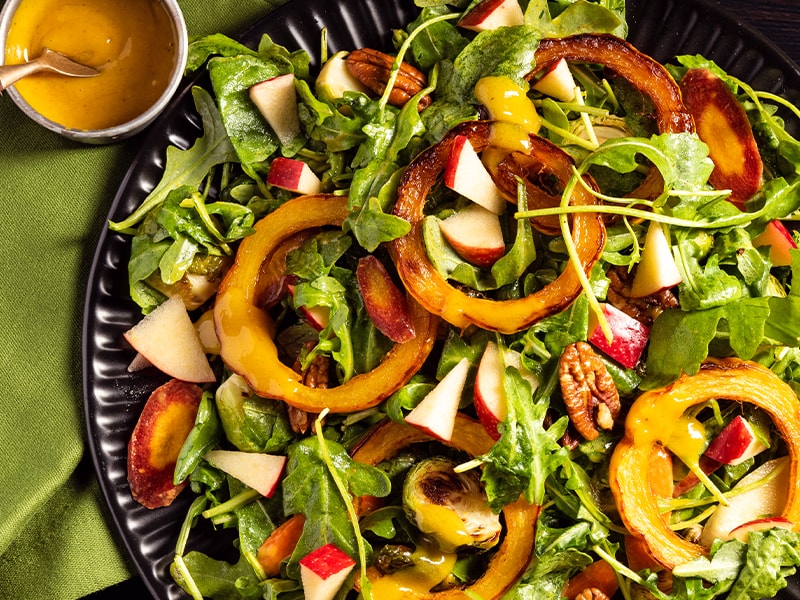 Summer Harvest Honey Bowl
Chop up some summertime favorites like carrots, apples, pecans and arugula, toss with Harvest Honey, and you've got yourself a crowd pleaser.
Active Time: 35 minutes
Total Time: 35 minutes
Servings: 2
Ingredients
2 cups arugula
¼ cup butternut squash
5–6 rainbow baby carrots
7–8 Brussels sprouts
1 red apple
¼ cup pecans
4 tablespoons Plochman's Harvest Honey Mustard
1 tablespoon avocado oil
2 tablespoons olive oil
Directions
Begin by cubing the butternut squash, halving the brussel sprouts, and cutting the rainbow baby carrots once lengthwise. Slice the delicata squash crosswise — making 4 or 5 slices — and remove the seeds to form rings.
Toss the butternut squash and brussel sprouts in olive oil. Sprinkle with salt and pepper, and lay them out out on a lined baking sheet. Bake at 350ºF until tender.
Parboil the baby carrots until tender.
Cube the apple.
In a large mixing bowl, combine the arugula, baked veggies, baby carrots, and pecans. Add Harvest Honey Mustard mixture (add avocado oil to mustard) (to taste), and toss.
Add the apple cubes, and serve!
Print