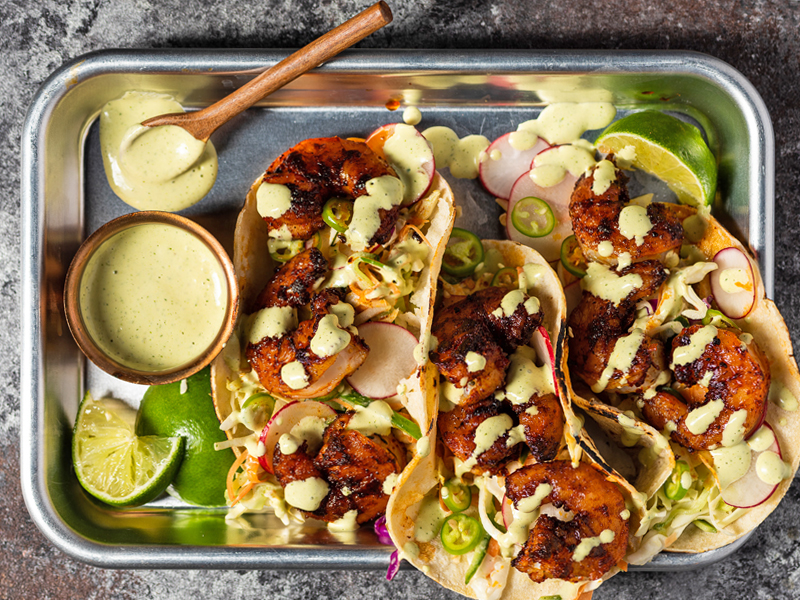 Tequila Grilled Shrimp Tacos
Tasty shrimp, crunchy veggies, spicy jalapeño and of course as much zesty Tequila mustard as you can handle. You might need a siesta after this fiesta.
Active Time: 15 minutes
Total Time: 25 minutes
Servings: 12 tacos
Ingredients
Ingredients for Mustard Sauce
2 tablespoons lime juice
1 1/2 tablespoon Plochman's Tequila Mustard
3 tablespoon mayonnaise
2 garlic cloves
1 jalapeno pepper, seeds removed
Ingredients for Shrimp Filling 
1 pound medium raw shrimp, tails removed, rinsed
salt to taste
pepper to taste
1 teaspoon chili powder
cilantro sprigs
lime juice
Small corn or flour tortillas, warmed
Slaw: shredded purple cabbage, jicama, carrots and cucumber
Directions
Combine lime juice, Tequila mustard, mayonnaise, garlic, and habanero in a food processor. Process until smooth. Refrigerate until ready to use.
Toss together cabbage, jicama, carrots, and cucumber in a medium bowl. Refrigerate until ready to use.
Season shrimp with salt, pepper, and chili powder. Heat 1 tablespoon oil in a sauté pan. Cook shrimp until cooked through; approximately 5 minutes.  Remove from heat and set aside.
Heat tortillas. Place 4–6 shrimp on a tortilla, top with habanero mustard sauce, slaw, a few cilantro sprigs, and a squeeze of lime juice. Repeat with remaining ingredients.  Serve.
Print