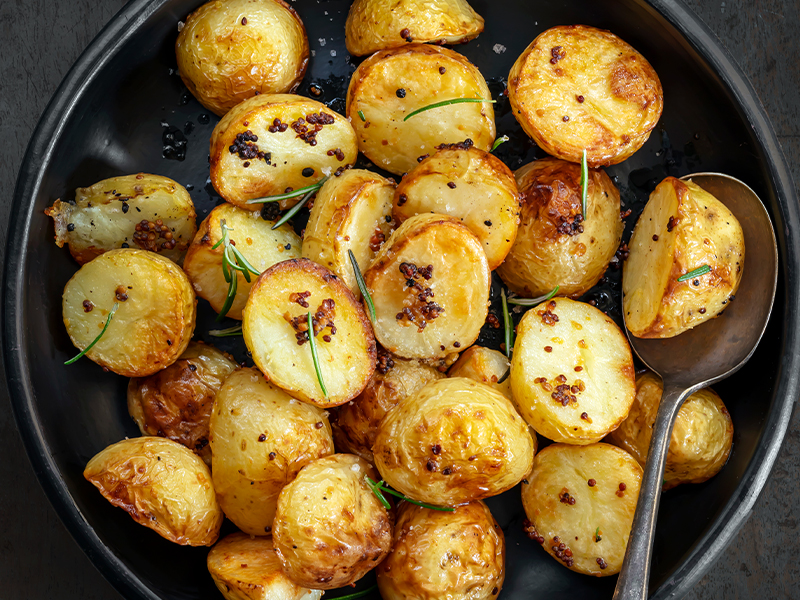 Garlic Tarragon Roasted Potatoes
Plochman's Garlic Tarragon Roasted Potatoes are a combination of Natural Stone Ground Mustard, olive oil, garlic, tarragon, salt, paprika, and potatoes.
Active Time: 10 Minutes
Total Time: 45 Minutes
Servings: 4–6
Ingredients
¼ cup Plochman's Stone Ground Mustard
3 tablespoons olive oil
1 clove garlic, minced
1 teaspoon dried tarragon
¼ teaspoon paprika
1 teaspoon salt
3 large baking potatoes, cut into 1-inch pieces
freshly cracked pepper and thyme (optional garnish)
Directions
Preheat oven to 425° degrees F.
Thoroughly mix all ingredients, except potatoes.
Pat potatoes dry and toss with mustard mixture.
Bake on lightly oiled baking sheet until potatoes are tender on the inside and crisp on the outside, about 30–35 minutes.
If desired, garnish with freshly cracked pepper and thyme right before serving.
Kick It Up a Notch
After the potatoes have finished baking, sprinkle with Parmesan cheese and broil in the oven until cheese is melted, about 3–5 minutes.
Print