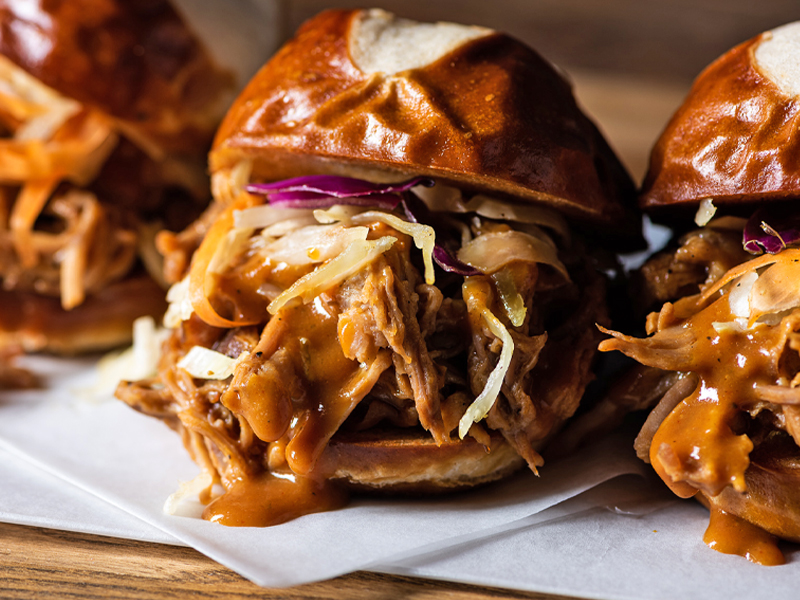 BBQ Pulled Pork Sliders
Rub your pork with a mix of brown sugar and spices, then cook and slather with Carolina BBQ Mustard for some of the best sliders you'll have the pleasure to devour.
Active Time: 10 minutes
Total Time: 12 hours
Servings: 8
Ingredients
5 pounds pork shoulder butt roast
3 tablespoons brown sugar
3 teaspoons salt
1 teaspoon paprika
1/2 teaspoon pepper
2 teaspoons crushed red pepper flakes
1 teaspoon garlic powder
1 teaspoon cayenne pepper
1 large onion quartered
3/4 cup Plochman's Carolina BBQ Mustard
Garnish: shredded carrots, cabbage slaw
Directions
In a small bowl mix together brown sugar, salt, paprika, pepper, red pepper flakes, garlic powder, and cayenne pepper. Rub all over pork.
Add pork to the slow cooker. Add onion along the sides. Add BBQ Mustard.
Cook on low for 12 hours. Shred with two forks. Serve on pretzel bun with creamy coleslaw if desired.
Print