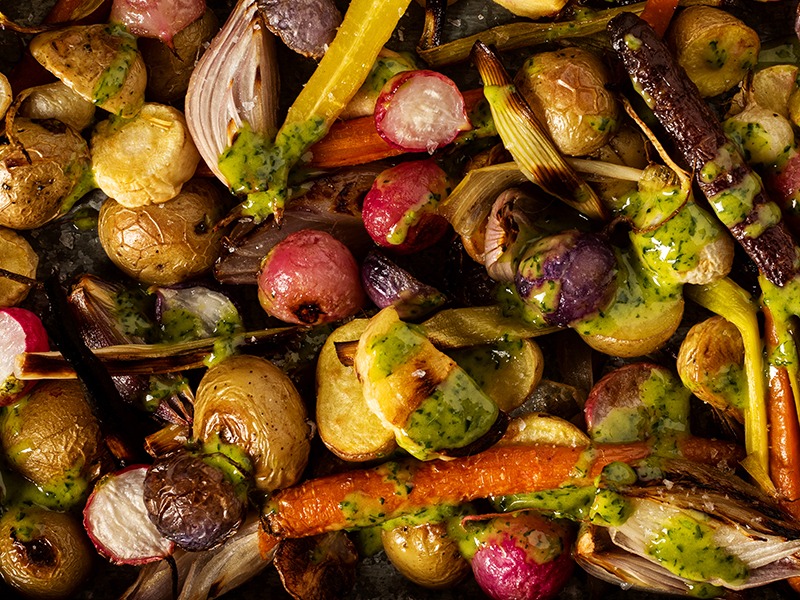 Champagne Mustard Roasted Veggies
Bright colors and bold flavor by serving a champagne mustard dressing that elevates the natural flavors for the perfect side to any protein.
Active Time: 25 minutes
Total Time: 40 minutes
Servings: 4-6
Ingredients
1 lb. Carrots, multi-colored, halved lengthwise
10 each Radishes- halved
3 each Shallots- halved
12 ea. Creamer potatoes, trimmed
2 ea. Parsnips- thickly sliced
2 ea. Leeks- washed, sliced
4 oz. Olive oil – split in half
1 Tbsp. Honey
1/4 C. Italian parsley, chopped fresh plus more for garnish
1/3 C. Plochman's Champagne Mustard
Salt & Black Pepper to taste, freshly cracked
Directions
Preheat the oven to 420 degrees. Line a baking sheet with parchment paper.
Place the carrots, radishes, shallots, potatoes, parsnips and leeks in a bowl.
Drizzle with half of the olive oil and season with salt and pepper.
Place the vegetables in a single layer on the prepared baking sheet.
Cook until the vegetables are brown and crisp-tender, 25 minutes or until fork tender.
Meanwhile in a blender deposit the Champagne Mustard, fresh chopped parsley and honey, blend this together while slowly pouring in the remaining olive oil. Season to taste with salt and pepper.
Transfer the vegetables to a serving platter and drizzle with the vinaigrette.
Print