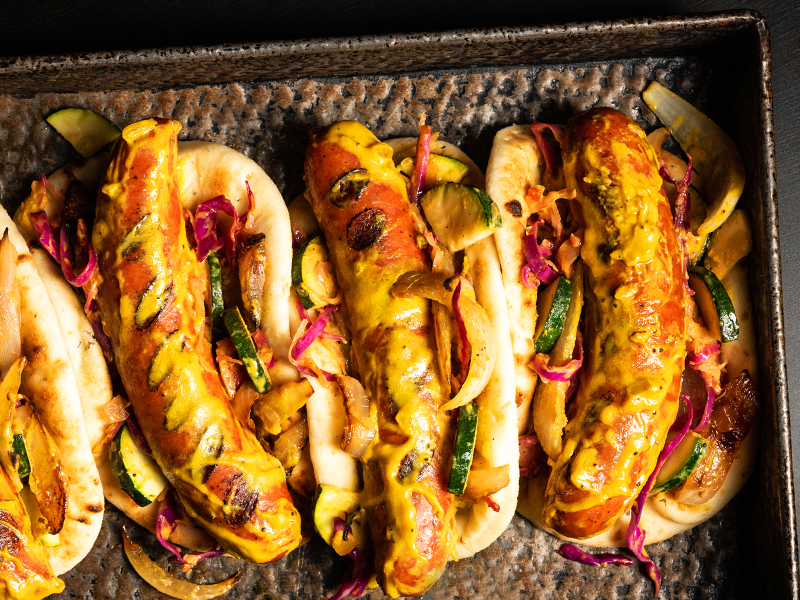 "The German" Grilled Bratwurst
A thick, beer-cooked brat, loaded with The Works, sauerkraut, onion and zucchini, all wrapped up in a flatbread. It'll knock your lederhosens off.
Active Time: 10 Minutes
Total Time: 40 Minutes
Servings: 4
Ingredients
4 bratwurst (pork or beef)
4 flatbreads
24 oz beer
12 oz water
Toppings
1 cup sauerkraut
2 yellow onions roughly chopped
2 zucchini sliced
Garnish: chives
Directions
Grill bratwurst on aluminum pan on the direct side of the grill at 325°F. Pour in beer and water, and bring to a simmer.
Put bratwursts in pan Simmer for 10–15 minutes, turning the brats every few minutes.
In a fresh aluminum pan, add the vegetables and cook on the indirect side of the grill. Cook until brown and caramelized. Add The Works mustard, sauerkraut, and zucchini. Combine well and leave over indirect heat while you grill the brats.
Remove brats from beer and place on the grill grates, directly over the heat. Grill for 2 minutes on each side, until browned and the internal temperature is 160°F.
Add brats to the mustard and vegetable mix. Coat each link with sauce.
Place flatbreads on the direct side of the grill, inside-down. Cook until lightly toasted.
Serve layered brats in toasted flatbreads.
Print