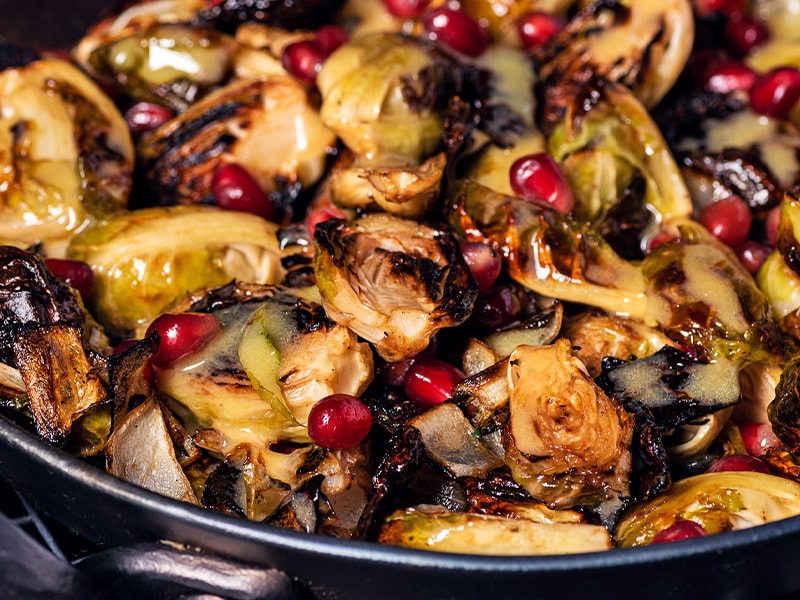 Champagne Roasted Brussels Sprouts
A once-mocked side is made new again when coated with a bright, sweet vinaigrette made with fruity Champagne mustard.
Active Time: 5 Minutes
Total Time: 35 Minutes
Servings: 4
Ingredients
1 medium onion, coarsely chopped
1 bag of Brussels sprouts, sliced lengthwise
1 Pomegranate, de-seeded
1 tablespoon garlic seasoning
Pepper to taste
Olive oil
Balsamic vinegar
1 tablespoon Plochman's Champagne Mustard
1 1/2 tablespoons white wine vinegar
6 tablespoons olive oil
Directions
Prepare the vinaigrette by whisking together the champagne mustard, vinegar, and the 6 tablespoons of olive oil. Set aside.
Wash Brussels sprouts and pomegranate seeds. Chop the onion coarsely into 1 inch chunks, the Brussels sprouts in half. Place Brussels sprouts in a large baking pan.
Generously drizzle oil, balsamic vinegar and sprinkle with garlic seasoning and pepper. Mix with hands again to evenly coat.
Roast at 350ºF for about 30 minutes, or until Brussels sprouts have a golden color (you do not want the Brussels sprouts to be mushy). Test them with a fork. For the last 5 minutes of cooking, add pomegranate seeds.
When cooked to your liking, remove them from the oven and drizzle with the champagne vinaigrette. Mix and enjoy.
Print