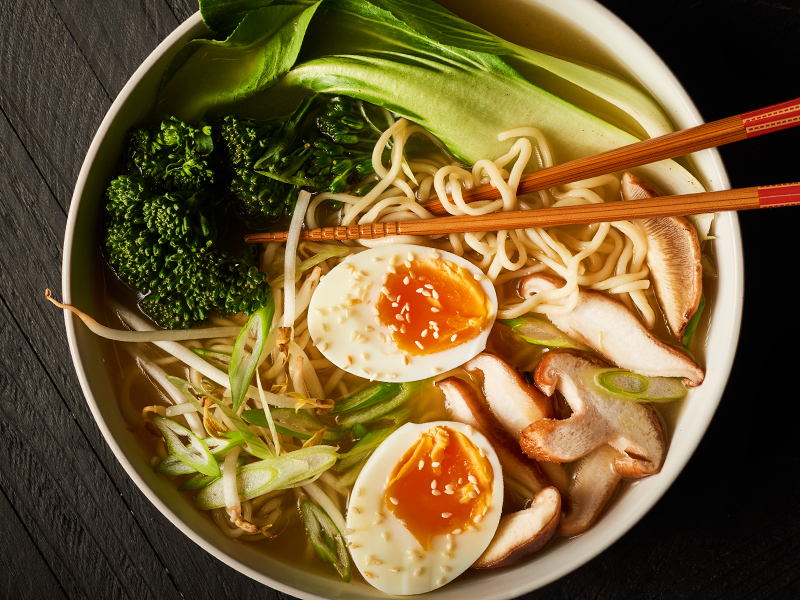 Chicken Ramen Mustard Bowl
Japanese fare with umami flair. Just add some Original Mild to let that classic signature zip take it up a notch.
Active Time: 15 Minutes
Total Time: 45 Minutes
Servings: 2
Ingredients
2 teaspoons sesame oil

2 teaspoons minced ginger

1 tablespoon minced garlic

3 tablespoons soy sauce

2 tablespoons

Plochman's® Mild Yellow Mustard

4 cups chicken broth

½ cup shiitake mushrooms

½ cup broccoli

1 teaspoon salt

2 cups ramen noodles

2 large soft-boiled eggs

½ cup sliced scallions

Lemon juice to taste
Directions
In a large pot, heat sesame oil over medium heat until simmering. Add minced garlic and ginger, cooking until softened and fragrant. 

Add soy sauce and mustard to the pot, stirring until well combined. Let cook for an additional minute.

Add chicken broth to the pot and cover until boiling. Once boiling, remove the lid and let simmer for five minutes, uncovered.

Add mushrooms and broccoli, and simmer for an additional 10 minutes. Add salt to taste and set the broth aside. 

Boil a medium pot of water, adding ramen noodles once boiling. Cook until noodles have softened (about 3 minutes). Strain water.

Divide the noodles into two large bowls. Add broth and top each bowl with an egg, sliced scallions, and lemon juice to taste.
Print