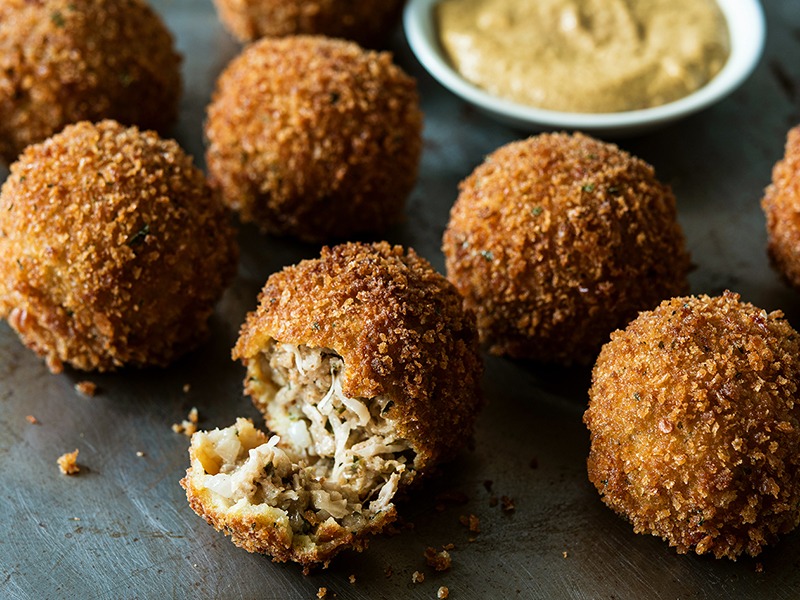 Pale Ale Sauerkraut Sausage Bites
Dip 'em. Dunk 'em. Bite 'em. These tasty sauerkraut fritters are easy to make, simple to serve, and extra delicious no matter how you eat them.
Active Time: 30 minutes
Total Time: 60 minutes
Servings: 24
Ingredients
1 lb. prepared sauerkraut
5 beer brats, casings removed
1 large onion, peeled and coarsely grated ¼ cup flat leaf parsley, chopped
¼ cup Plochman's Craft Beer Mustard
2 tsp. garlic powder
2 cups grated Swiss cheese
½ tsp. salt
1 tsp. freshly ground pepper
2 ½ cups panko breadcrumbs, divided 3 eggs, whisked
1 cup all-purpose flour
Canola oil for deep-frying
Plochman's Craft Beer Mustard to serve
Directions
Drain sauerkraut in a colander. Using a tea towel or your hands, squeeze out as much liquid as possible. Place in a large clean bowl.
Add brat meat to the sauerkraut with the onion, parsley, mustard, garlic powder, cheese, salt and pepper and ¼ cup of the breadcrumbs. Mix until thoroughly combined.
Roll mixture into 2 tbsp. balls and place on a baking sheet.
In three shallow dishes, place separately: eggs, flour seasoned generously with salt and pepper, and remaining breadcrumbs.
Dredge each ball lightly in the flour, then egg mixture, and finally in the breadcrumbs. Place back on baking sheet.
Heat oil in a large saucepan until it reaches 350°F. Cook the bites in 4-5 batches for approx. 6 minutes or until deep golden brown and cooked through. Drain on paper towel and keep warm in the oven until ready to serve.
Serve with a side of Plochman's Craft Beer Mustard.
Print