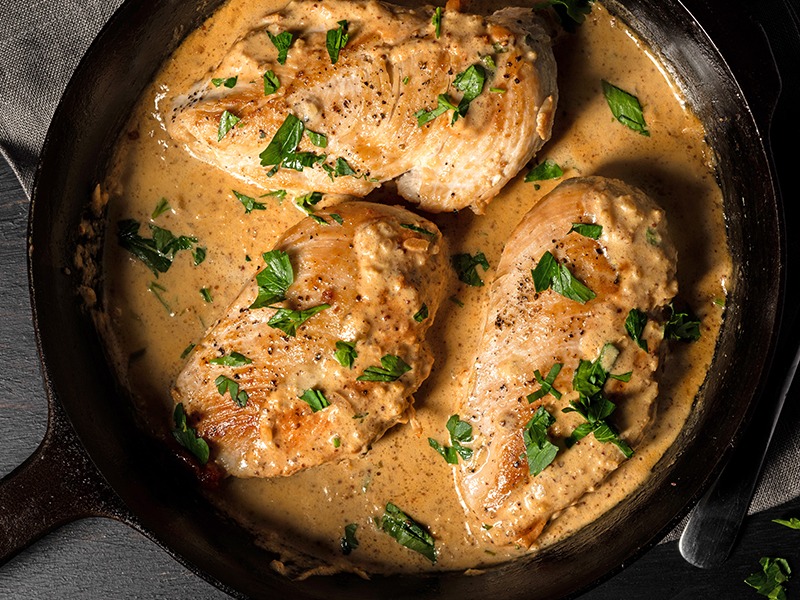 Creamy Tarragon Chicken & Mashed Potatoes
Plochman's Creamy Tarragon Chicken & Mashed Potatoes starts with boneless chicken breasts and coats them in a mix of Deli Dijon Mustard and Original Stone Ground Mustard.
Active Time: 30 Minutes
Total Time: 30 Minutes
Servings: 6
Ingredients
6 boneless, skinless chicken breasts
1/4 teaspoon salt
1/4 teaspoon pepper
2 tablespoons olive oil
1/4 cup shallots, minced
1/2 cup chicken stock or broth
1/2 cup heavy cream
1 tablespoon Plochman's Bourbon Mustard
1 tablespoon Plochman's Stone Ground Mustard
1 teaspoon dried tarragon (or 1 tablespoon fresh tarragon)
1 1/2 pounds mashed potatoes, prepared
1 teaspoon fresh parsley, chopped
Directions
Season chicken breasts with salt and pepper.
In a large skillet, heat oil over medium-high heat. Add chicken and sauté until cooked through, about 10–12 minutes. Transfer to a plate and cover to keep warm.
Add minced shallots to the skillet and stir briskly. Reduce heat to medium-low and continue stirring for 30–40 seconds. Add chicken stock and cook for 3–5 minutes.
Whisk in cream, mustards and tarragon. Whisk for 5–6 minutes, or until thickened. Remove from heat.
On a warm platter, spoon hot mashed potatoes down the center. Cut warm chicken breasts into thick slices and arrange on mashed potatoes.
Right before serving, spoon cream sauce over chicken and top with parsley.
Print