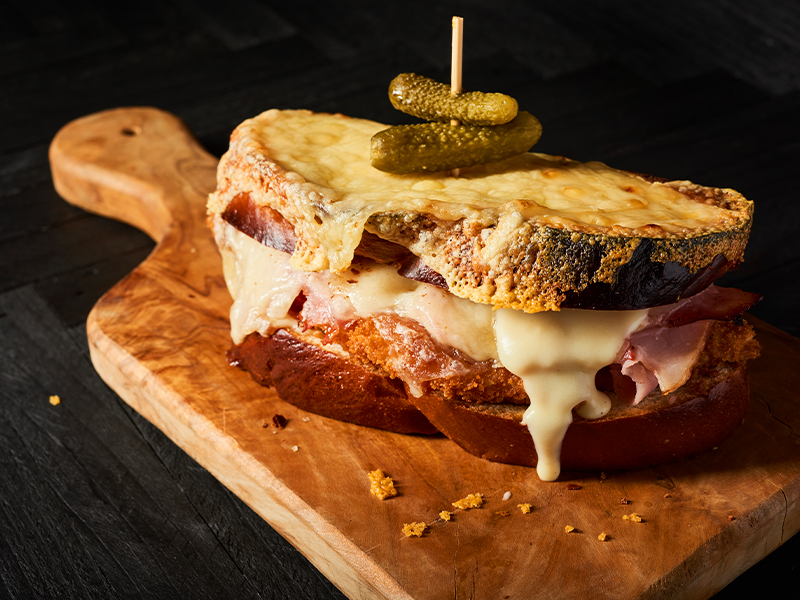 Croque Monsieur with Mustard Mornay
Give your chicken sandwich an upgrade with a couple slices of challah bread, seasoned breading and, of course, the easy zip of Original Mild.
Active Time: 30 Minutes
Total Time: 30 Minutes
Servings: 6
Ingredients
Chicken Breast:
1 large chicken breast

½ cup panko crumbs

2 tablespoons butter, melted

¼ teaspoon garlic powder

1 teaspoon

Plochman's® Mild Yellow Mustard

¼ cup flour

1 egg, lightly beaten

Kosher salt and pepper
Sandwich:
4 slices Challah bread, cut 1-inch thick

2 tablespoons butter, softened

2 large ham slices, to taste

4 Swiss cheese slices

¼ cup grated Parmesan

Garnish with thyme

Baby dill pickles
Mornay Sauce:
2 tablespoons unsalted butter

2 tablespoons flour

1 cup whole milk

2 tablespoons

Plochman's® Mild Yellow Mustard

Kosher salt and pepper

½ cup grated Parmesan
Directions
For the chicken, preheat oven to 400°F. Slice the chicken breasts horizontally from tip to tip, holding the knife parallel to the cutting board, to create two long cutlets. Place the cutlets into a large Ziploc bag and pound with a meat mallet to an even thickness.

Mix together the panko crumbs, butter, garlic powder, and mustard. Have three shallow bowls set aside. Add flour to one bowl, egg to another, and the panko mixture to the last. Season each mixture with salt and pepper.

Dredge each cutlet first in the flour, then the egg, and lastly in the panko mixture, making sure to coat the meat evenly. Place the cutlets on a baking sheet and cook for approximately 18 minutes, or until the chicken is cooked through. Finish under the broiler for two minutes, or until they are golden brown.

Butter each slice of bread on one side. Place on a baking sheet, buttered side up, and put in the oven with the chicken. Cook until the bread is toasted, about 15 minutes. (The chicken and bread should finish at about the same time.)

Meanwhile, make the Mornay sauce. Melt the butter in a small saucepan on medium-low heat. Add flour and whisk until smooth (and the flour taste is cooked out), about one minute. Pour in milk and cook until the sauce thickens, approximately 3-5 minutes. (If the sauce is too thick, add a couple more tablespoons of milk until it reaches your desired consistency.) Add the mustard and salt and pepper to taste. Reduce heat to low and stir in ½ cup of Parmesan until melted. Season again, to taste. Keep the sauce on low heat, stirring occasionally, until ready to assemble the sandwiches.

Place a chicken cutlet on top of a slice of bread. Top with ½ slice of ham, a couple slices of cheese, and another slice of bread. Spread a generous amount of Mornay sauce and Parmesan cheese over the sandwich. Repeat. Bake the sandwiches for approximately 8 minutes, then finish off under the broiler for a couple of minutes until the cheese inside the sandwich is melted and the top is golden brown. Garnish and serve immediately with baby dill pickles.
Print