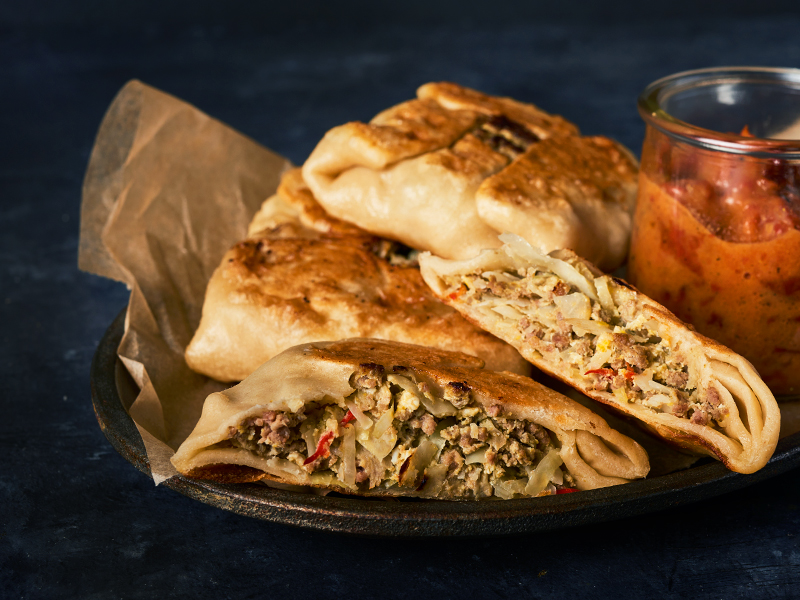 Mustard-Infused Zanzibar Pizza
Might as well double the ingredients now—you're going to want as much of this warm and zesty Tanzanian favorite as you can get.
Active Time: 1 Hour
Total Time: 1.5 Hours
Servings: 4
Ingredients
Dough:
2 cups flour

½ teaspoon salt

1 cup water

2 tablespoons vegetable oil
Filling:
2 red onions, grated

1¾ cups minced beef

1 ½  teaspoons

Plochman's® Mild Yellow Mustard

2 cloves garlic, chopped

½ red chili, finely chopped

2 teaspoons curry powder

¾ cup finely shredded cabbage

1 tablespoon olive oil
Sauce:
3 tablespoons chutney sauce

½ teaspoon

Plochman's® Mild Yellow Mustard

1 cup tomato sauce
Directions
Sift 2 cups of flour into a bowl.

Add ½ teaspoon salt and ½ cup water to make a smooth dough and knead for 2-3 minutes.

Divide the dough into 8 equal balls and place in a shallow dish.

Pour oil over them, making sure they are well coated. Then cover and place on one side for two hours.

Prepare filling by mixing all ingredients together. 

Fry the filling mixture, then transfer to a large bowl and mix in 4 to 5 large eggs.

Stretch the dough balls into circles on a chopping board.

Add ⅛ of the filling to the middle of each circle. Then bundle the dough up, so you have a closed bundle.

Heat 1 tablespoon of oil in a non-stick pan over medium heat. Place bundle in pan and sauté until golden brown for about 3 minutes, turn and cook other side for about 3 minutes.

Stir together chutney, mustard, and tomato sauce. Serve on the side.
Print