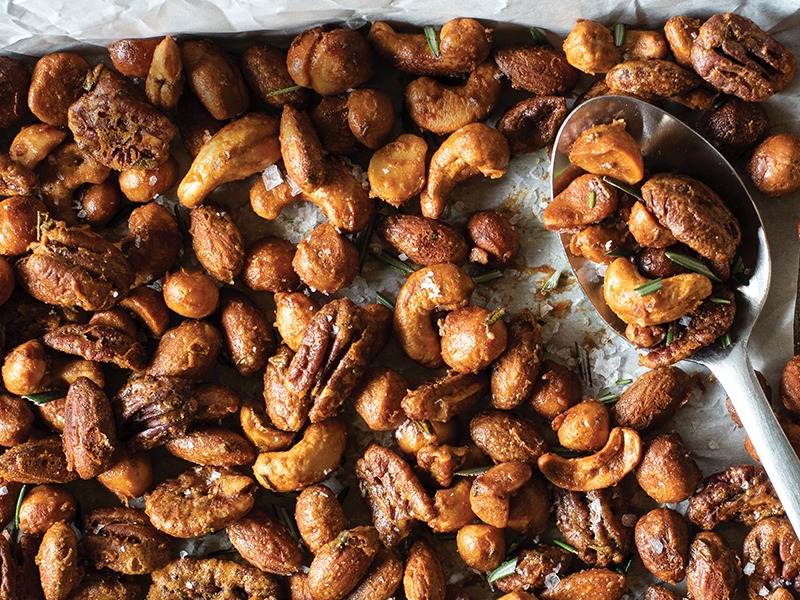 Mustard, Spice & Rosemary Mixed Nuts
A sweet and spicy snack perfect for entertaining!
Servings: Makes about 4 cups of mixed nuts to share
Ingredients
¼ cup brown sugar
¼ cup Plochman's Chicago Fire® Mustard
2 tbsp. melted unsalted butter
2 tbsp. chopped fresh rosemary
1 tsp. freshly ground pepper
½ tsp. ground cinnamon
1 cup whole raw natural almonds
1 cup raw pecan halves
1 cup whole raw cashew nuts
1 cup whole raw macadamia nuts
Coarse or flaked salt, to taste
Directions
Line a large baking sheet with parchment paper. Preheat the oven to 350°.
Combine brown sugar, mustard, butter, rosemary, pepper and cinnamon in a large bowl.
Add the nuts; stir until well coated. Spread the mixture onto prepared baking sheet. Roast in preheated oven, stirring occasionally, for 20 to 25 minutes or until golden brown (mixture will become crisp as it cools). If needed, sprinkle with salt to taste. Cool completely before storing.
Make ahead:
The finished recipe can be made up to 2 weeks ahead and stored in an airtight container in a cool, dry place. Do not store in the fridge.
Print