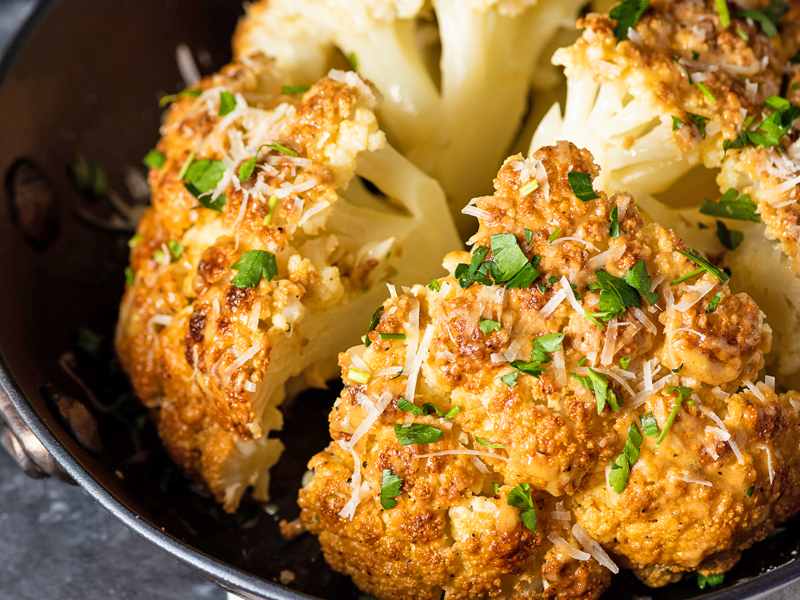 Oven Roasted Mustard Cauliflower
These roasty, toasty bites of cauliflower are super easy to make and only kind of easy to not hoard for yourself.
Active Time: 10 minutes
Total Time: 1 hour 15 minutes
Servings: 4
Ingredients
2 large heads cauliflower
1/4 cup olive oil
4 tablespoons Plochman's Tequila Mustard 
Kosher salt and freshly ground black pepper
1/2 cup fresh parsley leaves, roughly chopped
1/4 cup shredded Parmesan
Directions
Position an oven rack in the bottom of the oven and preheat to 450ºF. Line a baking sheet with parchment paper.
Trim the stem flush with the bottom of the head so the cauliflower sits flat on the prepared baking sheet.
Whisk together the oil, 3 tablespoons of Tequila mustard, salt and a few grinds of black pepper in a small bowl.
Put the cauliflower on the prepared baking sheet and brush the entire outside and inside with the mustard-oil mixture. Roast the cauliflower until nicely charred and tender (a long skewer inserted in the center of the cauliflower should pass through easily), 50 minutes to 1 hour. Let rest for a few minutes.
Meanwhile, combine the parsley and Parmesan in a small bowl. Brush the outside of the roasted cauliflower heads all over with the remaining 1 tablespoon mustard and generously sprinkle with the Parmesan mixture.
Cut the cauliflower into thick wedges and serve on plates with a sprinkle of salt and any extra Parmesan mixture.
Print