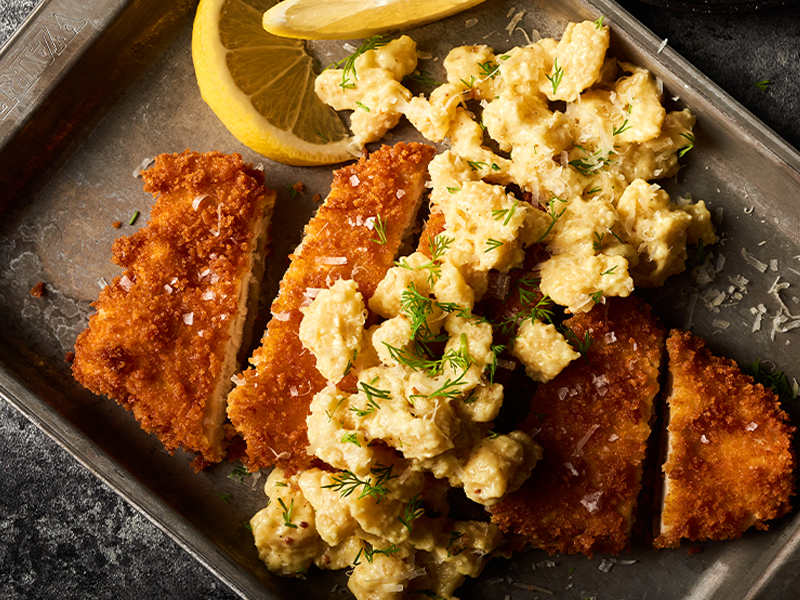 Mustard Schnitzel and Spaetzle
Crispy, tender schnitzel paired with soft and tart spaetzle is an Austria-lover's dream—not to mention downright stunning on a plate.
Active Time: 10 Minutes
Total Time: 10 Minutes
Servings: 4
Ingredients
4 four-ounce cutlets of veal, chicken or pork

Salt and pepper

1 cup all-purpose flour

2 extra large eggs

2 tablespoons

Plochman's® Mild Yellow Mustard

2 cups Panko breadcrumbs

2 tablespoons canola oil (or cooking oil of your choosing), divided

2 tablespoons unsalted butter, divided

Pinch of dried rosemary

Lemon wedges
Directions
Season cutlets with salt and pepper on the front and back.

Line up three shallow bowls side by side. Add flour to the first bowl. Beat egg and mustard together in the second bowl. Add one cup of breadcrumbs to the third bowl, replenishing with the remaining cup as needed.

Dredge one cutlet through the flour, shaking off the excess. Then, dip the same cutlet into the egg and mustard mixture, coating each side evenly. Lastly, coat the cutlet with breadcrumbs, pressing to adhere, and transfer to a clean plate.

Repeat step 3 with the remaining three cutlets.

In a large skillet, heat 1 tablespoon of cooking oil and 1 tablespoon of butter over medium-high heat.

Cook two cutlets in the skillet for 8-10 minutes, flipping halfway through until golden-brown on each side.

Transfer cooked cutlet onto a plate lined with a paper towel.

Repeat steps 5-7 with remaining two cutlets.

Garnish each serving of schnitzel with dried rosemary and lemon wedges.

Serve with Mustard Gruyere Herbed Spaetzle.
Print