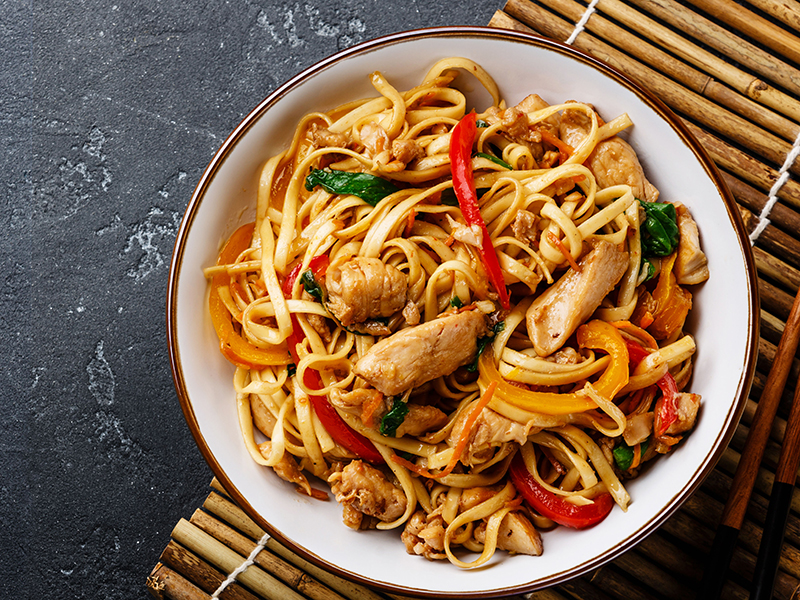 Pad Thai with Mustard Chicken
Just a bit of Classic Yellow brings the sweet-salty-sour taste of this hearty Asian favorite to life. Thai not to get too addicted.
Active Time: 45 Minutes
Total Time: 1 Hour
Servings: 5
Ingredients
10

 

ounces

 Udon

 rice noodles

2

tablespoons 

vegetable oil

¼ 

 

cup

dark brown sugar

¼

cup

 

soy sauce

2

 

tablespoons

 

rice vinegar

1

 

tablespoon

 

lime juice

1

 

tablespoon

 

fish sauce

1

 

red bell pepper,

 thinly sliced

1

½

 

cups

 

matchstick carrots

2

 

cloves

 

garlic

5

 

green onions,

minced

2

 

cups

 

bean sprouts

3

 

large eggs

Toppings:

peanuts,

cilantro, red pepper flakes and sesame seeds
Marinade
1 cup vegetable oil
¾ cup soy sauce

½

cup red wine vinegar
1/3 cup fresh squeezed lemon juice
¼ cup Worcestershire sauce
2 tablespoons Plochman's® Mild Yellow Mustard
1 tablespoon black pepper
1

½

teaspoons dried parsley
2 cloves crushed garlic

1

 

lb

 

boneless skinless chicken breasts, sliced into strips
Directions
Combine marinade ingredients in a large bag. Let chicken marinate inside for 4–6+ hours for optimal flavor.
In a mixing bowl, whisk together brown sugar, soy sauce, rice vinegar, lime juice, and fish sauce. Set aside.
Prepare noodles according to the directions listed on package.
While noodles are cooking, heat oil in a 12-inch deep sauté pan set over medium-high heat. Add chicken and sauté until cooked through, about 6 minutes. Transfer to a plate, leaving oil in pan.
Add bell pepper and carrots to pan and sauté for 1–2 minutes. Add garlic, green onions, and bean sprouts. Sauté for 1 minute.
Push veggies to the edges of the pan and crack eggs into the center. Cook and scramble until eggs have cooked through. Add in chicken, noodles, and sauce. Toss everything together and cook for 1–2 minutes.
Serve warm, topped with peanuts, cilantro, red pepper flakes and sesame seeds.
Kick It Up a Notch
If you like it extra saucy, you can double the sauce mixture.
Print