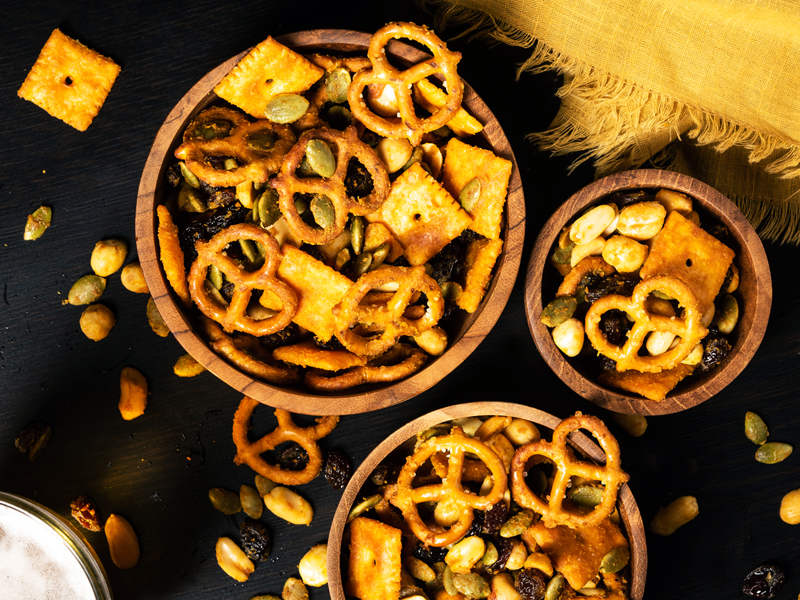 Savory Roasted Trail Mix
Plochman's Savory Roasted Trail Mix blends Chicago Fire Mustard, oil, various seasonings, pretzels, seeds, nuts, cheesy crackers, and raisins.
Active Time: 10 Minutes
Total Time: 25 Minutes
Servings: 8
Ingredients
1/4 cup Plochman's Chicago Fire Mustard
2 tablespoons vegetable oil
1 teaspoon onion powder
1 teaspoon garlic powder
1 teaspoon seasoning salt
3 cups pretzel twists
1 cup pumpkin seeds
1 cup beer nuts
1 cup cheese-flavored snack crackers
1 cup raisins
Directions
Preheat oven to 250°F.
In a microwavable bowl, mix mustard, vegetable oil, onion powder, garlic powder and seasoning salt until well-combined. Microwave for about 40 seconds.
Mix pretzels, pumpkin seeds, beer nuts, crackers and raisins in a large roasting pan.
Pour mustard mixture over pretzel mixture and toss to coat.
Bake for 15 minutes, stirring frequently.
Remove from oven and let cool before munching.
Print