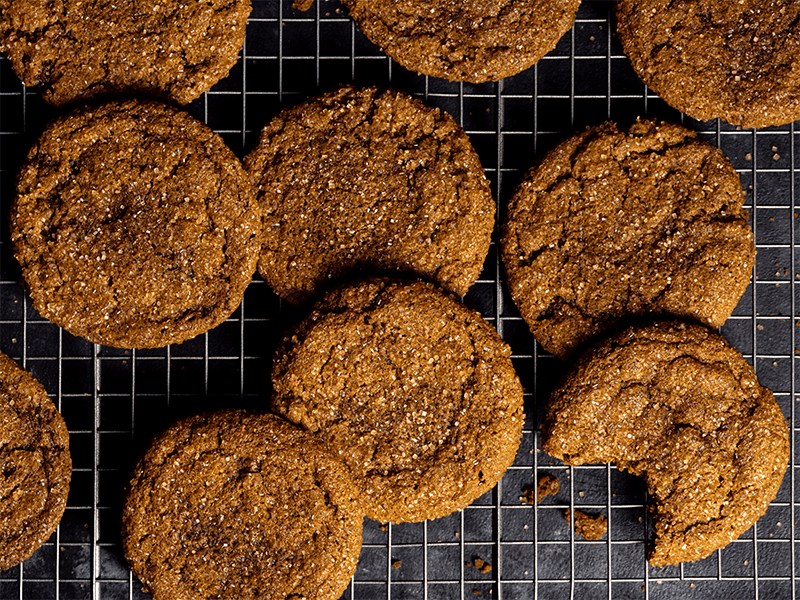 Spiced Mustard Cookies
Want to leave with an empty plate? Bring these sweet-yet-savory cookies to any get-together to wow the crowd. (Just be sure to grab a few for yourself!)
Active Time: 1 hour 20 minutes
Total Time: 1 hour 40 minutes
Servings: 24
Ingredients
2 ¼ C. all-purpose flour

2 tsp. baking soda

1 tsp. ground cinnamon

¾ tsp. ground ginger

¾ tsp. allspice

½ tsp. salt

¾ C. unsalted butter, room temperature

¾ C. packed dark brown sugar

1 extra large egg

5 tbsp. molasses

⅓ C. finely diced candied ginger (optional)

1 C. Turbinado (raw) sugar for rolling

3 tbsp Plochman's® Stone Ground Craft Mustard
Directions
Combine flour, baking soda, cinnamon, ground ginger, allspice, and salt in a bowl and mix well.

Beat butter and sugar together in bowl with an electric mixer until light and fluffy, 3 minutes.

Add egg, Stone Ground Craft Mustard, and molasses. Mix to combine well. Stir in dry ingredients. Stir in candied ginger if using. Refrigerate batter 1 hour.

Preheat oven to 375° F. Roll dough into 1 ½-inch balls. Roll balls in Turbinado sugar. Arrange on baking sheets lined with parchment paper and gently flatten. Bake in oven until set and crinkled on top, about 12 minutes. Remove and cool.
Print