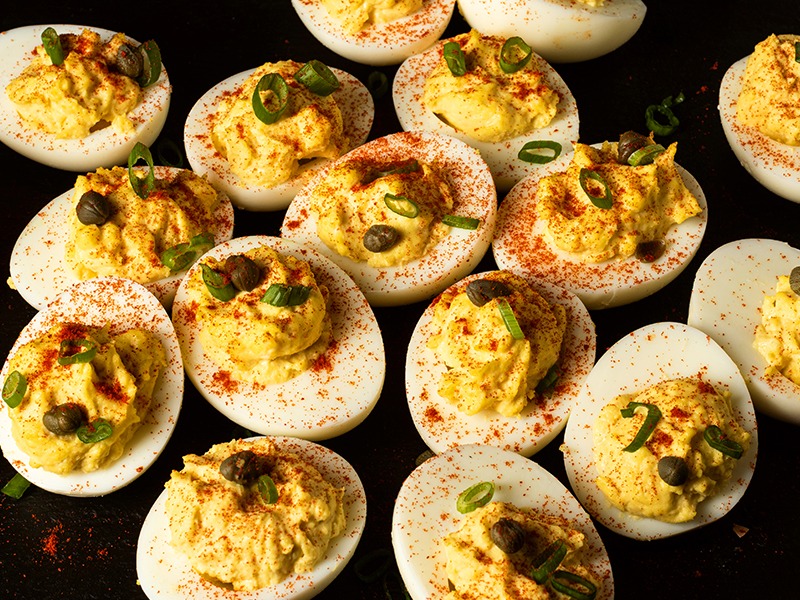 Spicy Mustard Deviled Eggs
Plochman's Spicy Mustard Deviled Eggs are a blend of eggs, mayonnaise, Spicy Horseradish Mustard, white balsamic vinegar, scallions, and capers.
Active Time: 15 Minutes
Total Time: 30 Minutes
Servings: 8
Ingredients
8 large eggs
1/4 cup mayonnaise
1 tablespoon Plochman's Spicy Horseradish Mustard
1/2 teaspoon white balsamic vinegar
salt and pepper, to taste
1 tablespoon capers, drained
2 tablespoons scallions, thinly sliced
Directions
Place eggs in a medium pot and cover with cold water by 1 inch. Bring to a rolling boil. Remove pan from heat, cover and let stand for about 13 minutes.
Meanwhile, mix together mayonnaise, mustard and vinegar.
Remove eggs from pot and run under cold water to cool.
Peel eggs and slice in half lengthwise. Carefully remove yolks.
Mash yolks into mustard mixture. Add salt and pepper, to taste.
Spoon or pipe egg yolk mixture into egg whites.
Top with capers and scallions.
Kick It Up a Notch
Bring even more heat by sprinkling eggs with 1 teaspoon cayenne pepper right before topping with capers and scallions.
Print