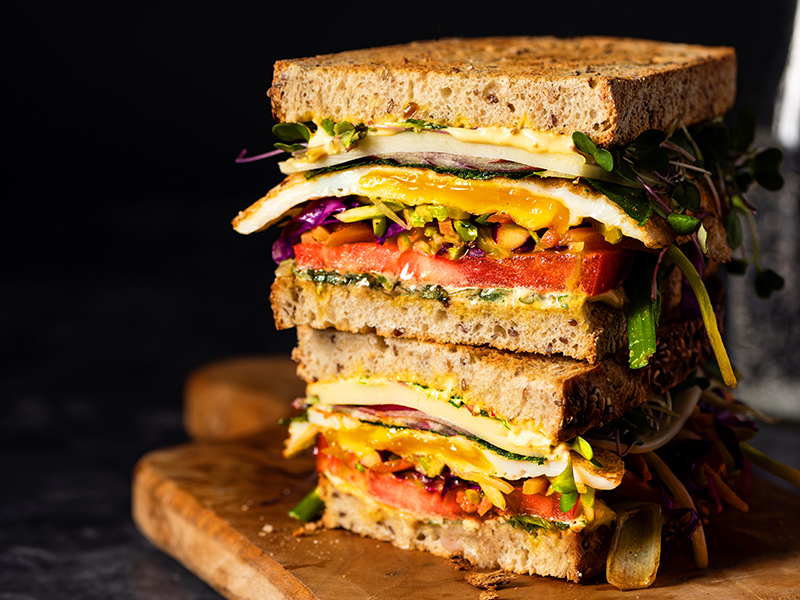 Stir-Fried Vegetable Sandwich
The zing delivered by the Chicago Fire Mustard-mayo combination enhance the vegetables' already strong flavor.
Active Time: 20 minutes
Total Time: 20 minutes
Servings: 2
Ingredients
2 kaiser rolls, sliced in half
2 tablespoons mayonnaise
4 tomato slices
2 tablespoons olive oil
1/4 cup red bell pepper, thinly sliced
1/2 cup baby bok choy, thinly sliced
1/2 cup broccoli slaw
2 tablespoons scallions, thinly sliced
1/4 cup carrots, cut into matchsticks
salt and pepper, to taste
4 provolone cheese slices
2 tablespoons Plochman's Chicago Fire Mustard
Directions
Spread roll bottoms with mayonnaise and place 2 tomato slices on each sandwich.
Stir-fry remaining vegetables in olive oil and season to taste with salt and pepper.
Place cooked vegetables on sandwiches and top each sandwich with 2 cheese slices.
Spread mustard on roll tops and place on top of sandwiches.
Print